This guide will include some very basic info and links to the most important sections of the configuration of a new Omnilert system. Use this guide to get started, but be aware that it does not include all of the possible features and settings, but rather just the most common things used to get started.
Arrange a system orientation/training session
Notification systems are about readiness and planning. That means having a good implementation plan. We want to help you build that plan. 
Omnilert provides each new organization with a dedicated Account Manager. Your Account Manager will be a tremendous asset in helping you get the most out of your Omnilert system, including planning, training, and helping with the implementation for your sites.
The first step in the process is to arrange a system orientation. Your Account Manager will reach out to the primary contact for your system to schedule that important call. This training will include several key topics, including:
Basic system functionality (How to send messages, view/manage subscribers info, generate reports, and more.)
System implementation (Configuring/customizing endpoints, Data management, Groups, Setting up admins)
Notification policy ideas and discussions (Sharing our collected experience can help you get the right plan to meet your goals.)
Of course, you're not required to take up our offer to help. You can certainly proceed without this step, but why do that when we're here to help? 
Your Omnilert system configuration will depend heavily on several key factors:
Data management: How will subscriber info get into the system? Are you going to use "opt-in" or "opt-out"? 
Will you need Groups? Will you need/want to target messages to subsets of your subscribers? We call those "Groups." If you're creating groups, how many will you need? For what purpose?
Do you have multiple "endpoints"? Endpoints are the delivery channels for messages . (Texts, emails, phone calls, digital signs, desktop computers, etc.) 
All of these factors will be part of your implementation plan. 
Logging in as an administrator
Your new account info will include two web addresses:
Subscriber Portal: This is where your end-users (subscribers) will sign up and/or log into their subscription accounts. (This portal is not for admins, but for the recipients of your Omnilert alerts.)


Admin Portal: This link will take you to the special administrative access login page. The admin portal is where you and other admins for your account will log into Omnilert to manage the system and/or send out messages. 
The admin portal is a completely separate login page, independent from the subscriber portal. 
To log in as an admin, use the admin portal link provided with your startup info from Omnilert.
Your admin portal will look similar to the screen shown below: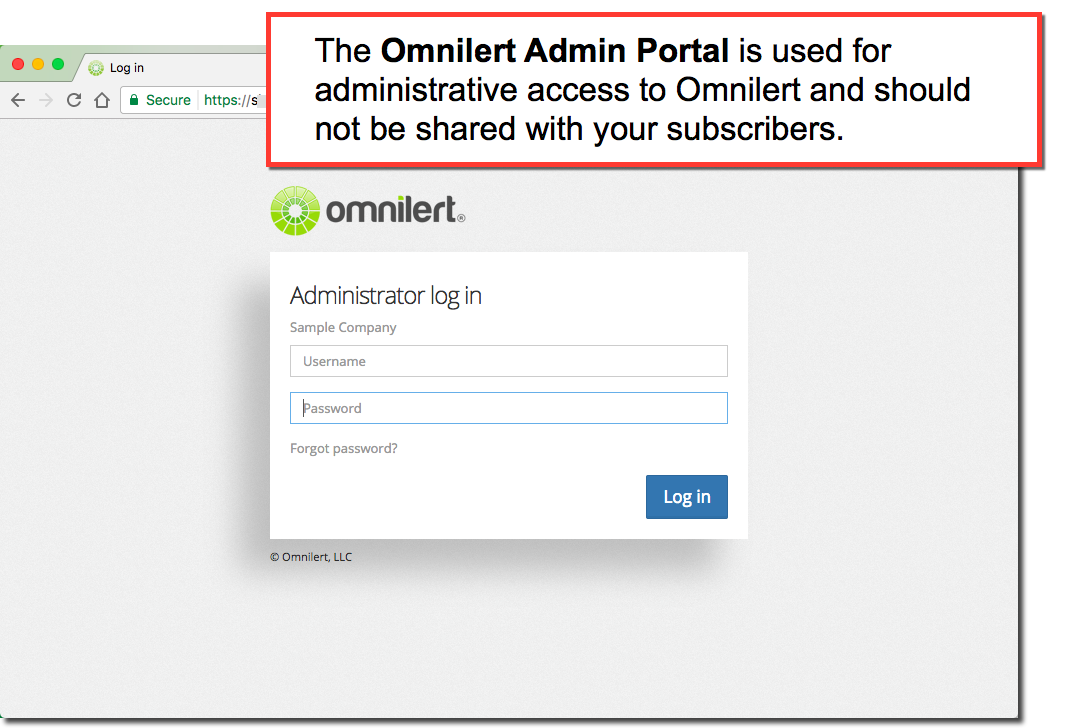 The administrator access page will say "Administrator log in" above the username/password fields.
Note: The initial admin username and password will be included with your startup info from Omnilert. 
The main menu
Most of the settings and features of your Omnilert service will be configured using the primary, main menu found on the left-hand side of the screen.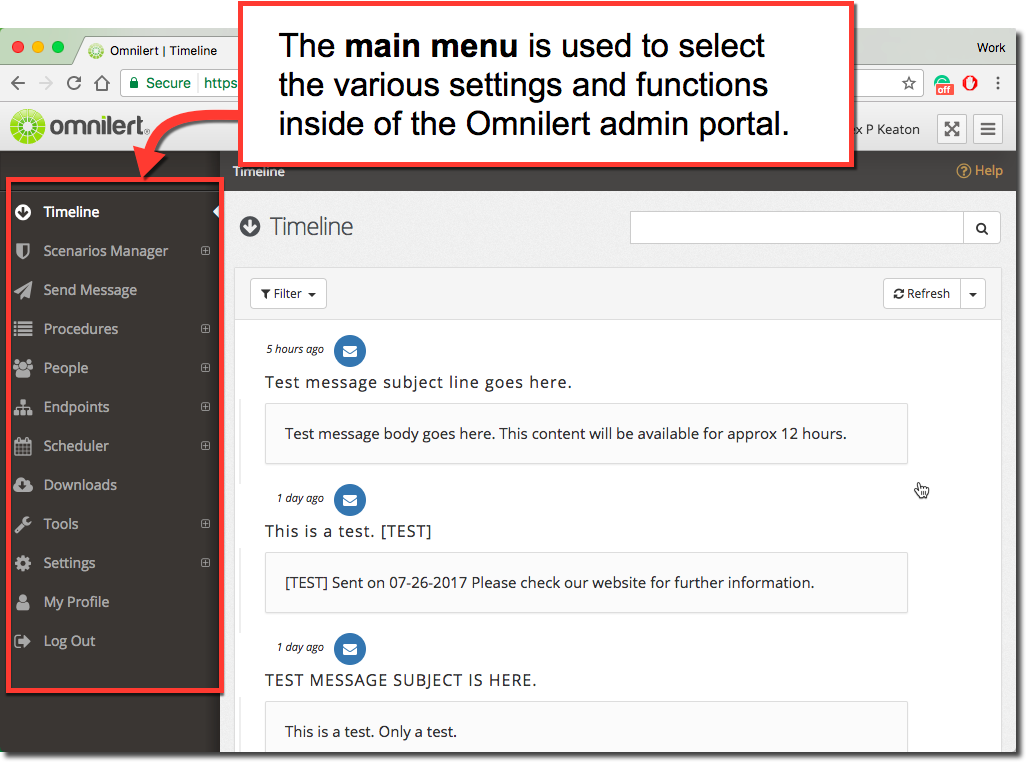 You will find all of the major features and functions in this menu. Some menu items contain submenus that will expand when clicked. 
You can show/hide the main menu with a single click of the

 button on the upper right side of the admin portal.
Creating Groups
If you're using groups to target group of subscribers within your community, you'll want to set those groups up before any subscribers sign up. This way, subscribers can be assigned/join groups as they enter the system. 
See: Adding a Group
Populating the system with Subscribers
Of course, a notification system doesn't help much if there's nobody to notify! So, you're going to need subscribers! There are many options to view, edit, and search subscribers in Omnilert.
Opt-in:
If you are planning to operate Omnilert as an "opt-in" service, your subscribers will need to sign up to receive alerts. 
To that end, you'd need to send them that link to the subscriber portal (shown below)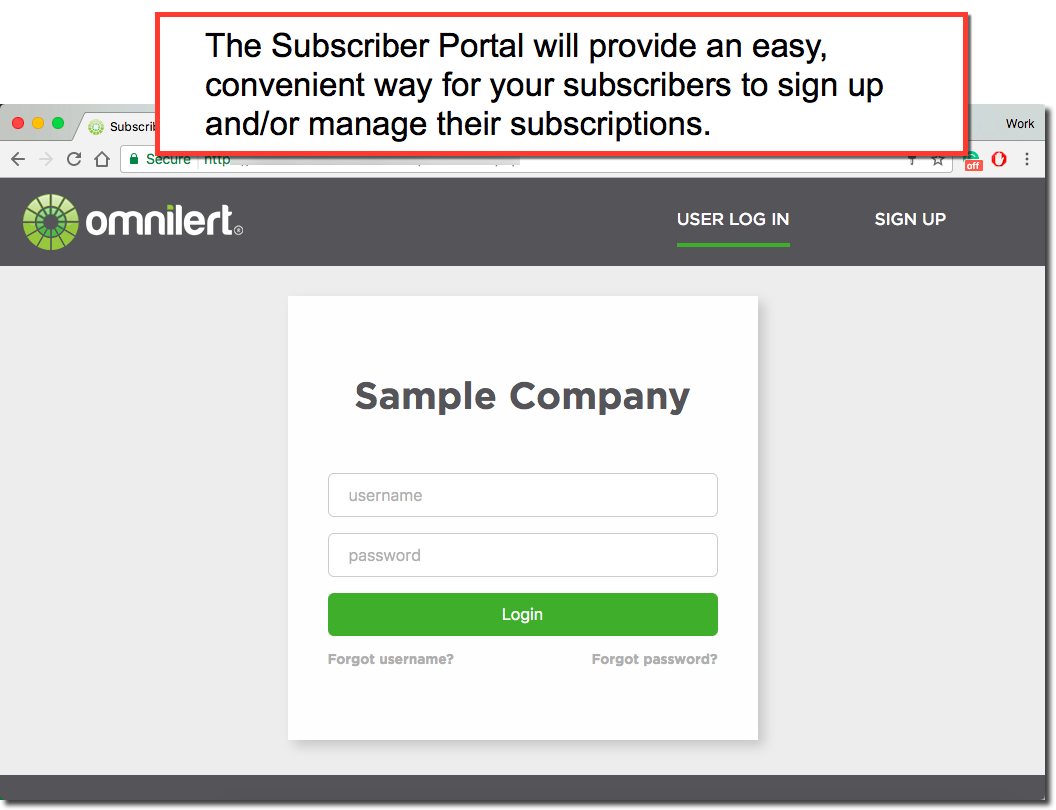 Looking to provide a customized experience for new subscribers? See this video for easy instructions.
Opt-out:
If you're going to use the system as an "opt-out" service, you'll use the Subscriber Import utility to import your subscribers' contact info using Comma Delimited Text (CSV) formatted data files.
Omnilert also provides automated import options using Omnilert's built-in FTP Import utility.
Sending a message
Once you've set up your basic Endpoints, Groups, and had subscribers sign up (or imported data), you will be ready to send a message.
Sending a message is easy. Click Send Messages on the main menu.
Other common settings to review/consider...
Omnilert includes many features. You may not need all of them, but choosing the right ones will help. Here are some other features you may want to consider using: