Endpoints are the various delivery channels for Omnilert messages. SMS (texts), email, voice calls, and social media are all "endpoints" for your Omnilert alerts.
As an "omnimodal" alerting solution, Omnilert provides many options for endpoints. To configure the endpoints for your organization, visit the "Endpoints" section of the main menu.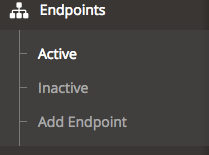 There are three sections to the Endpoints menu:
Active: Lists all endpoints that have been marked "active" (ready to use)
Inactive: Lists all inactive endpoints. These are partially configured or purposefully disabled to keep them out of service, but available to configure.
Add Endpoint: Used to add additional endpoints for services that allow multiple instances, such as RSS, Web Widgets, CAP feeds, Hotlines, and more.