Groups are the mechanism to sort a subset of subscribers within Omnilert. Typically, groups are used to select a large number of subscribers for an outgoing message.
When sending a message, you can select one or more Groups on the Send Message page (shown below):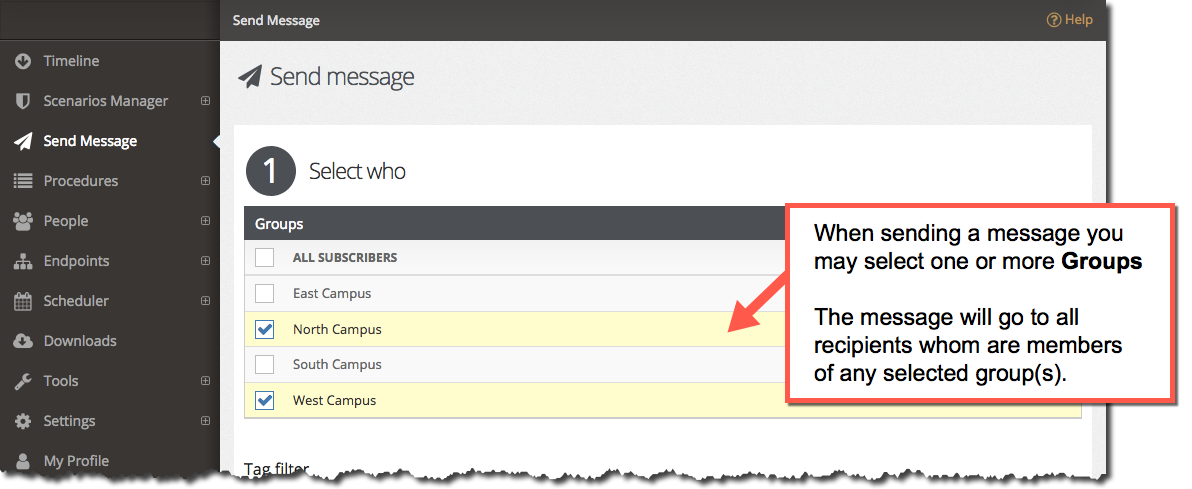 Groups are typically the most basic division of subscriber info. For example, you may use groups to denote major locations, such as a campus or region, or use them for major departments of a company or school.
When sending a message, the message will be sent to any subscribers that are members of any of the groups selected.
Public Groups vs Private Groups
Manage groups on the People > Groups section of the main menu.
There are two types of groups: public and private. By default, the Groups list will show only the "Public" groups available.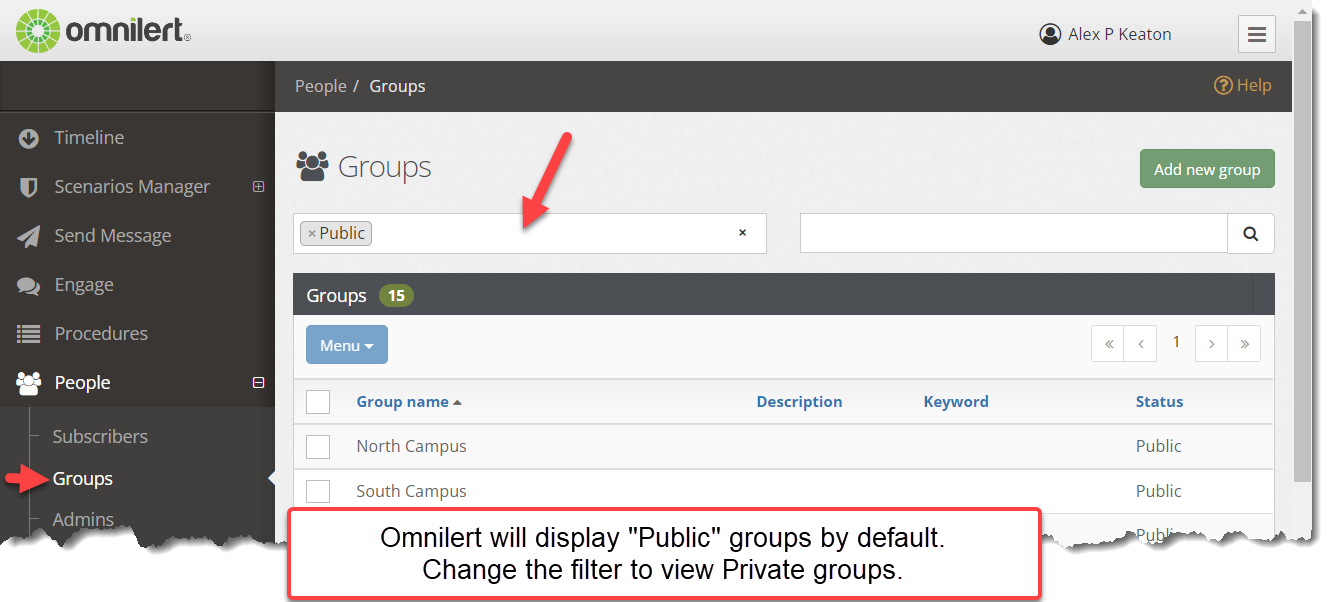 Public groups are groups that subscribers may choose to join when signing up or managing their own accounts via the subscriber portal.
Private groups are internal groups that subscribers do not see. Administrators add subscribers to private groups (manually or via CSV file upload).
Adding and Removing Groups
To add a new group, click Add new group
To remove a group, simply check the box next to the group in the list and then choose "Delete" from the menu. This will remove the grouping from Omnilert but not the subscribers in the group.
ALL SUBSCRIBERS
When composing messages, there is already a system group called "ALL SUBSCRIBERS". As the name implies, this group includes every subscriber.
So, when creating groups, you do not need to create a group for situations to "send to everyone". You can just use "ALL SUBSCRIBERS" instead.
This helps simplify sign-up for subscribers, sending for admins, and ensures that everyone gets sent your most critical system-wide alerts.
---
FAQs
"Can a subscriber be a member of multiple groups?"
Yes. Absolutely! They won't receive duplicate messages.
"Can we create our own groups?"
Yes. See "Adding a group".
"Are groups different from 'tags'?"
Yes, groups and tags are different in that messages will be sent to subscribers in any selected "groups", but "tags" filter the recipients to only those who also have the selected tags. (See "Tags vs. groups".) Using tags will further narrow the message's reach based on your selections.
So, selecting groups will include more recipients with more group selections, but selecting tags will filter out subscribers, narrowing the selected list to just include those with all of the selected tags.