In Omnilert, administrators are assigned "roles" which define the administrator's basic permission to access features and screens within the system. (See Admin Roles)
Along with the standard roles included, custom administrator roles can also be created. (See Creating Custom Admin Roles [VIDEO])
Additionally, administrators' access permissions can be manually edited beyond their assigned "role". (See Admins: Editing admin accounts)
Changing an admin's role
In some cases, it may be desirable to change one or more administrators' permissions to those assigned to a pre-existing "role". (This will remove any manually edited permissions for that admin.)
To do this, go to Admins >> Active and then select one or more admins.
Then choose "Change Admin Role" from the menu.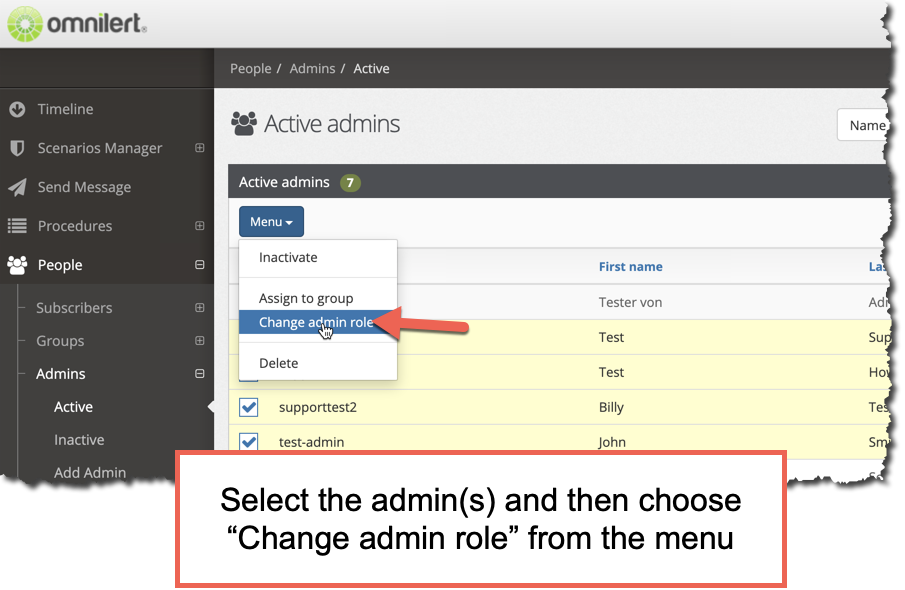 Choose a role and then apply that role to all of the chosen admins.

Confirm the change to save it. The admins will be set to the permissions and start page for that chosen admin role.