Your Omnilert service provides you with 2 web portals:
As you know, the Admin Portal is the administrator's web console, used to send messages, manage subscriber info, and configure the Omnilert account for your organization.
The Subscriber Portal provides a web portal for your Subscribers to manage their own Omnilert subscription options, such as their phone numbers, email addresses, optional groups, and password.
One of the powerful functions of Omnilert is the ability to customize the experience for your institution's subscribers. You can customize the Subscriber Portal with your own logos, instructions, and styles.
Customize the Subscriber Portal on the Settings >> Subscriber Portal section of the main menu.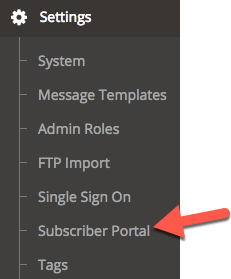 Aspects of the Omnilert subscriber portal that can be customized include: