Omnilert provides the option to show or hide the carrier list on the Subscriber Portal and Add Subscriber pages. 
Why collect carrier information at all?
For most US carriers, accurate carrier information is not required. All major US carriers support shortcode SMS, which doesn't require any special routing and texts will automatically reach the proper network when sent via Omnilert's shortcode.
However, non-standard carriers, such as international, prepaid, and regional providers may not support shortcode SMS. In such cases, Omnilert would need carrier information to properly route the message to its destination network.
Why hide the carrier list?
there are a few reasons why you might want/need to hide the carrier list:
Easier sign-up: Removing the carrier options makes the sign-up process a little easier by reducing the form a little bit. 
Shortcode only: If you want ALL of your texts to use shortcode, this setting prevents any non-shortcode sign-ups.
Not collecting carrier info? If you're manually entering your own subscribers and don't have carrier info, you can remove it from the form.
How to show/hide the carrier list
To adjust this setting, open the Settings >> System Settings >> Subscribers tab.  
To hide the carrier list, check the box marked Hide carrier list from subscriber portal and click Update subscribers.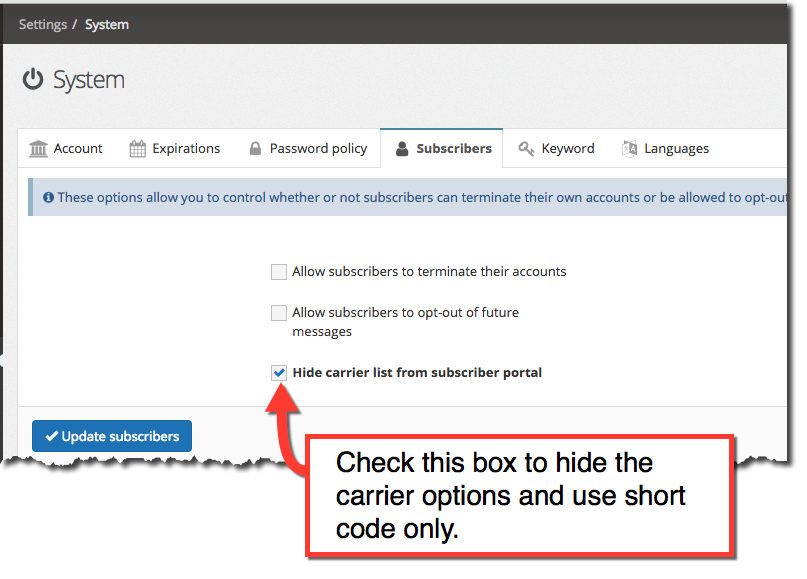 Please note: If the carrier list is visible on the sign-up / creation form, you must select a carrier to properly configure a phone number for SMS alerts!