Two Factor Authentication (2FA) adds a second layer to the administrator login process for additional security. In addition, to entering your password, your mobile device will be sent a 6-digit authorization code which must be entered into Omnilert's website to log into the system as an administrator.
To enable this feature for your admin account, visit the My Profile page in Omnilert. Then open the Security tab.
Adding your phone for 2FA
Enter your mobile number into the 2FA SMS Number field and then click Get Code: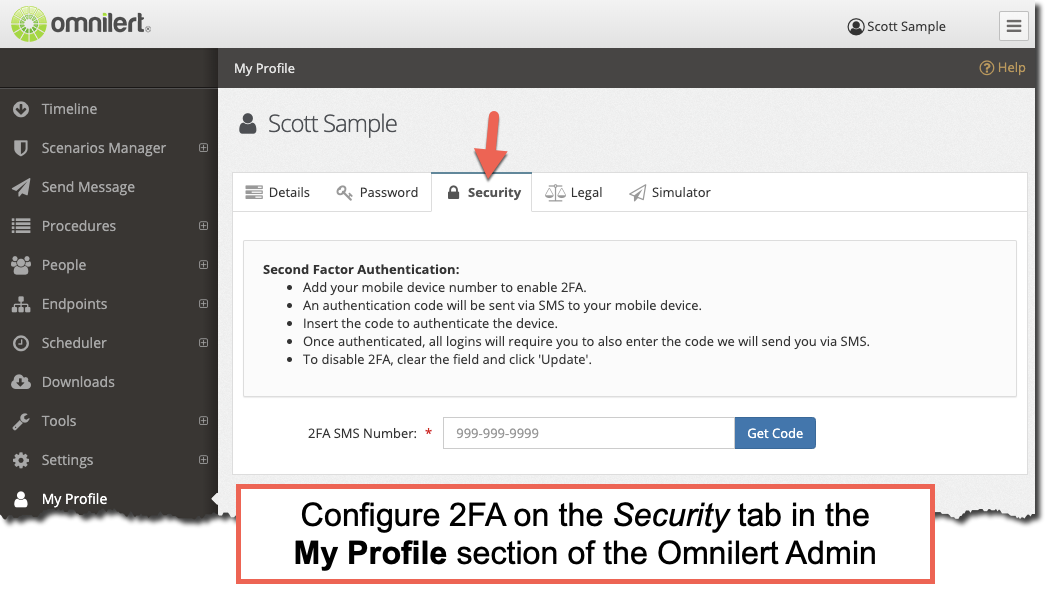 Omnilert will send your number a text message with a 6-digit code to verify your number:

Once you have received the code, enter the code into the space provided in Omnilert and click Verify to verify your phone for 2FA logins.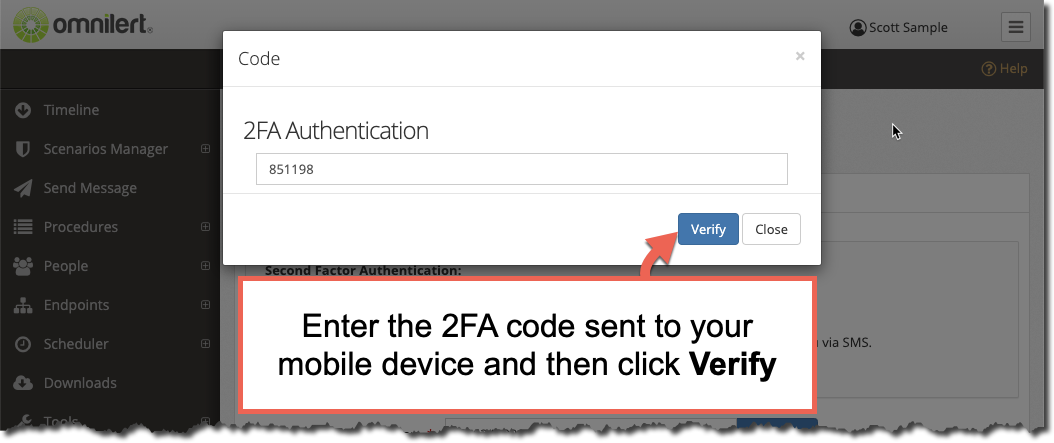 Once verified, all future logins to Omnilert for your admin username will require 2FA.
Recovery Codes
Omnilert will provide you with 10 "Recovery Codes". These are special, single-use passwords that can be used to log in if your phone is unavailable or offline.
They are long, complex, and thus not intended for regular use! They're meant to be an "in case of emergency" last-resort option.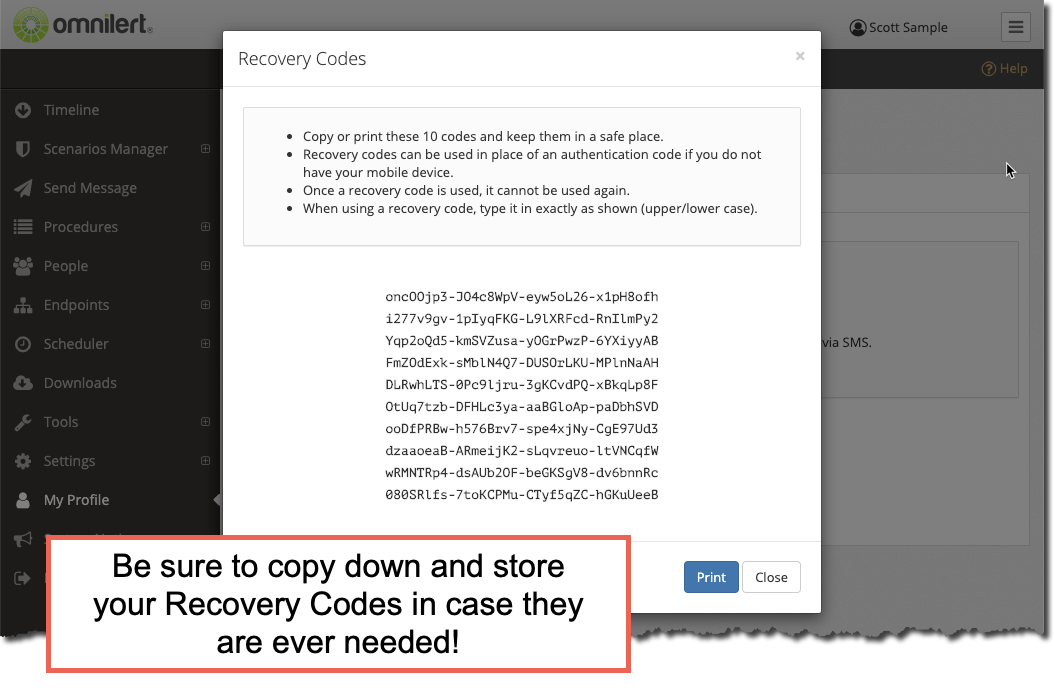 Using a recovery code can/will bypass 2FA. We recommend that you print these codes and store them in a secure place (e.g. offline).
Once a recovery code is used, it can never be used again. (Don't worry, you can generate fresh recovery codes as-needed.)
Note: Store your recovery codes in a secure location that only you can access.
Removing Two-Factor Authentication from your admin account
If you wish to disable your admin login's 2FA and return to normal, direct logins without using both a password and an SMS authorization code, simply remove your phone number from your My Profile >> Security settings.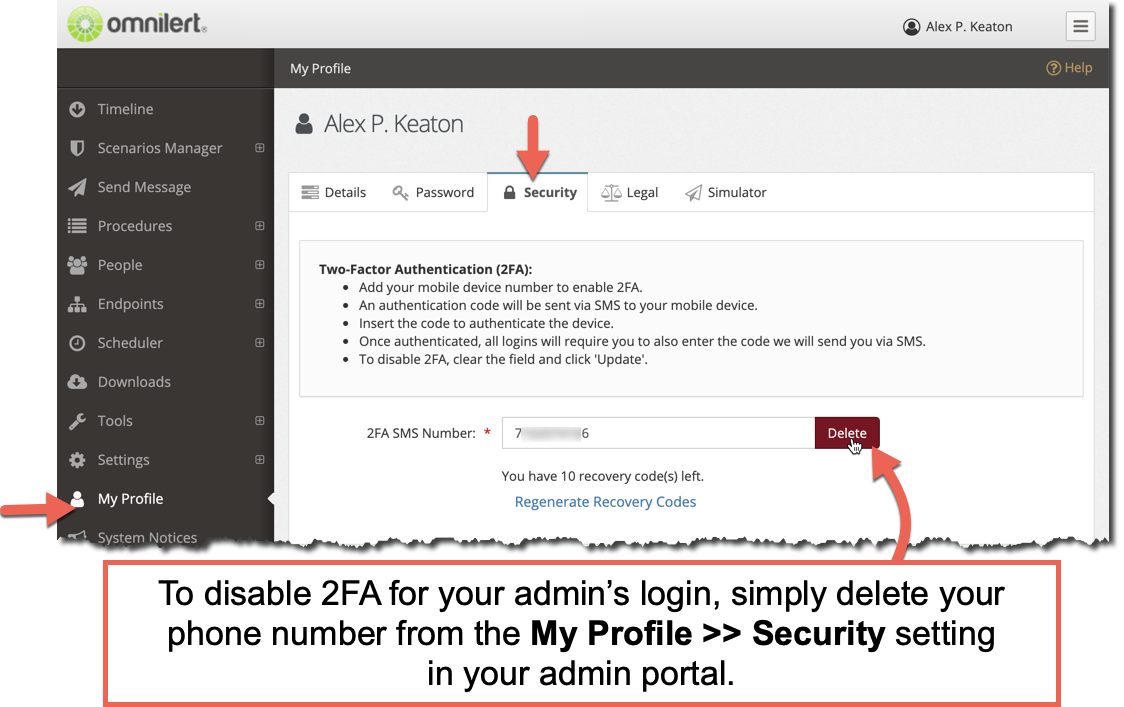 This change will only impact the current admin, not the entire system. (The main Account Admin for your Omnilert may change that setting in the Settings >> System >> Security settings.)
Note: Please check with your local supervisor to ensure that removing 2FA from your login is permitted under your employer's policies and procedures!