Emails from Omnilert will include plain-text content as well as a formatted HTML version if formatting is enabled.
The style of the HTML formatted version of email can be adjusted to your liking in the Settings > Email Format section of Omnilert. (This configuration option requires advanced "Super Admin" administrator rights.)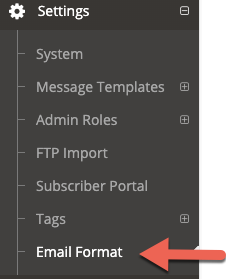 This customization allows you to set a custom style that will be wrapped around the content for your outgoing emails. This includes options for the header colors, header logo, and a text footer for your email messages.
The end result will wrap your outgoing Omnilert messages with your own look and feel. So, if you're seeking to give your alert emails a "branded" look, this is the setting for that purpose.
Enable / Disable HTML Formatting
To enable Omnilert to use your custom HTML email formatting, check the Enable email format? box and update the settings.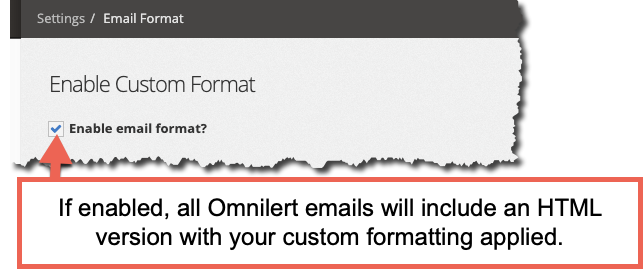 Which emails will use the HTML format?
HTML formatting will impact all outgoing emails from your Omnilert instance to your subscribers.
This includes emails sent to subscribers via the Email endpoint, SEED emails, as well as any system-generated emails, such as verification/validation emails, expiration reminders, etc.
When "Email formatting" is enabled, Omnilert's emails will be sent as Content-Type: multipart/alternative; with one part as formatted HTML content and another as plain-text content.
If left unchecked, Omnilert will send emails as the plain-text only content & the custom formatting options will be ignored. (Plain-text only is the system default.)
Unsubscribe Link
Please note that HTML formatted emails sent to subscribers will include an "unsubscribe" link at the bottom of each email.
Clicking the "unsubscribe" link will set that subscribers' email to "Active" = No and "Validated" = No. This allows Omnilert to operate within all applicable "anti-spam" regulations.
Formatting Options
There are 3 sections that can be customized: Header, Body, and Footer.
You'll note that there is also a "Live Preview" which will update to display any changes that you've made so that you can see how your custom email format will look to subscribers.
Header
The email format "header" is included at the top of all emails. This allows you to set colors and a logo image above the content of your outgoing message.

Background Color
The color settings will accept standard HTML color hex code values. (Please check with your organization's branding/style guide for the proper values to use. )
The header colors set the background and accent color to display behind your logo at the top of the outgoing email messages.
Background Color: The main color displayed behind your custom logo image.
Secondary Color: An accent color bar for your header section.
Logo image
Upload Logo: Click to upload a custom logo image to be displayed at the top of the outgoing emails. If no logo image is included, recipients may see a "broken image" in their emails.
Logo Image size recommendation
File type: .JPG, .PNG, or .GIF image format
Dimensions:

1000 max-width: 200 max-height (pixels)
Note: If your custom logo image is larger than the allowed image dimensions, it will be automatically resized to fit which may adversely affect image quality when viewed in email clients.
Body
The body will affect how message content is displayed in HTML formatted emails. This primarily affects how HTML links will appear.

Please note: Some email clients will override this color setting regardless of your custom formatting.
Footer
The footer section will be added after the message content of HTML formatted emails. This section can include some custom text content and links of your choosing.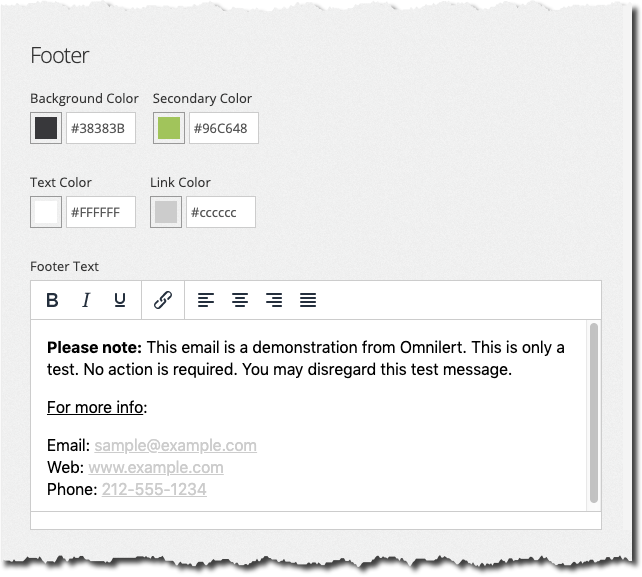 You can set several color options and include custom text content that will be included with every Omnilert email sent. (All custom color settings will accept standard web-safe hexadecimal color values.)
Background color: The footer's background.
Secondary color: Accent stripe on the footer.
Text color: The color applied to text within the footer.
Link color: The color applied to links within the footer. (Note that the recipient's email client may override your custom link color. )
Custom Footer Text Content
Use the text area to enter footer text content as desired. The editor allows you to format the text and add web links as desired. We recommend using high-contrast between the background and text/link colors for maximum accessibility.
This content will be sent to all email recipients below the primary message content.
Typically, this section is used for disclaimers, links, and organizational contact info that you'd like your recipients to see with every message.
Tips and Recommendations
Use a small logo image: Remember that many of your recipients will use their mobile devices to view emails over their wireless carrier's data plan. A logo header image of a small file size that looks good on a phone's small display is recommended whenever possible.
Don't forget to "Save"! When editing your format, be sure to click "Save Template" before testing. Changes to the header logo graphic are immediate, but other changes to the content, colors and enable/disable flag will require you to click "Save Template" before they take effect.
Contrast is important! Be sure to choose colors that provide sufficient contrast. If the custom text color and background that were chosen are very similar, your recipients may have difficulty reading content.
Send a test: You can preview your email in the "Live Preview" on-screen or by sending a sample with the "Send Sample" button. Also, to receive a test, you can simply go to the Tools > Send Test page and send yourself a test email to view a sample email on your preferred email client.
Link colors: Omnilert will allow you to set a custom color for links inside of emails. However, some recipients may still see your links in their email client's default link color regardless of any custom settings you've entered into the formatting.