The SMS service sends text messages to recipients. Texts from Omnilert send through the common short code 79516 to all major US carriers.
The configuration options for SMS are quite simple:
From name: This is the text label included with all outgoing SMS from your Omnilert service. Choose a short name that will clearly identify your texts. Note: The "From Name" chosen will be used to calculate SMS characters remaining when composing messages. (Learn more)


FR:, SUBJ:, and MSG: These are optional headers that can be added to your outgoing texts. Some organizations find these extra headers helpful. They are not required.


Disable SMS Inbound: By default, subscribers can reply to your texts via SMS (text). Those replies will be shown on the Timeline. You can disable this feature. Check this box to disable SMS replies from your subscribers.


Enable users to edit SMS subscription: Used to show/hide the "SMS" section within the Subscriber Portal. (Checked by default.) If un-checked, Subscribers will not be able to add/edit SMS devices in their own account.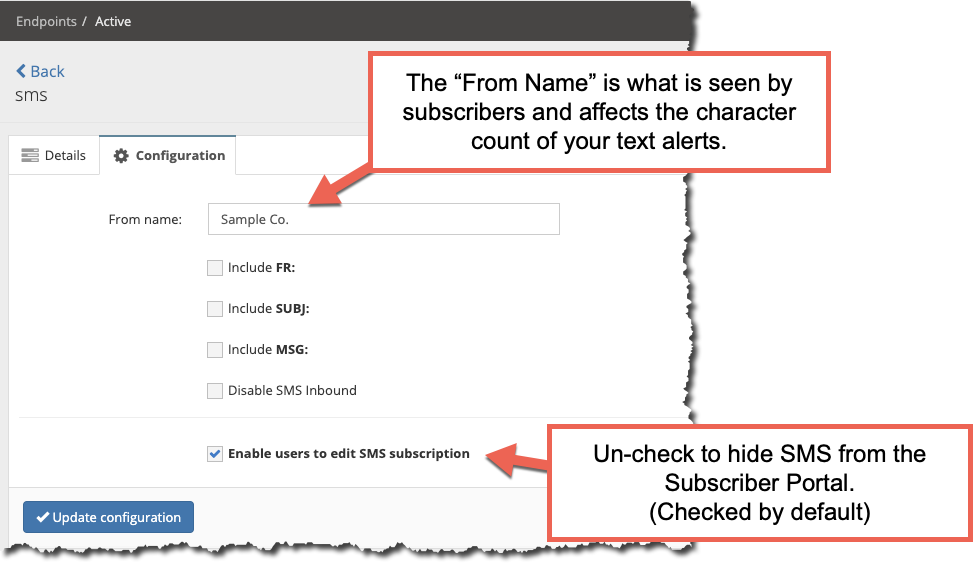 Tip:
Always take the character length into account when considering your "From Name" for the SMS channel. Texts have an absolute max length of 160 characters. This includes your "From Name" as well as any added headers.
Please note that text messages that exceed 160 total characters will send a link to view the full content in a web browser.
So, choose wisely! Having a long "From Name" will use valuable characters that could be used for your outgoing alerts!