Omnilert now includes the ability to schedule delivery of a message. To view and/or modify upcoming or past scheduled messages, visit the Scheduler on the main menu of the administrator's portal.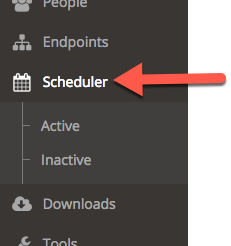 Why schedule a message for later?
In most instances, message need to be sent right when they're composed. For that, you just send a message normally, using the Send Message button.
The Scheduler functionality is designed to help send out alerts later, at a set time. They most common use-case will be weather closures and/or announcements of a non-urgent manner.
It's not uncommon to decide that a location will close long before a notice actually needs to be sent. In such a case, you can schedule delivery for later instead of sending it right away.
This exciting new capability allows you to "set it and forget it" in those instances where you need to compose your message now and have it send later.