The Omnilert "Instant App" allows subscribers to access the functionality of the iOS/Android Omnilert App without installing the app on their device.
Rather, the subscriber can access Omnilert's app functions via their device's web browser using a personalized link sent through SMS or Email.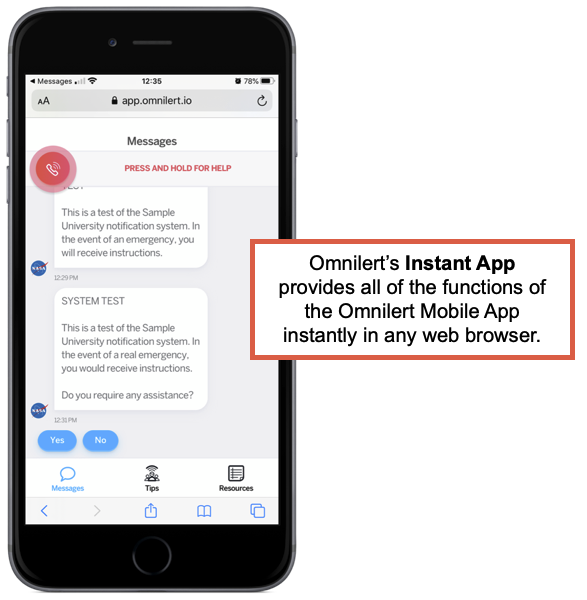 Once opened on the browser, the subscriber has access to all of their messages as well as other Omnilert App features, including Resources and Tip Reporting. 
How to implement the Omnilert Instant App
No special effort is required to use this feature. If you've configured your Omnilert App, then this feature will be available automatically.
Omnilert will simply insert short links to the Instant App in its outgoing text/email messages if the outgoing message uses SMS and/or Email and also includes the Omnilert App endpoint.
The subscribers who click their personal app link will open the Instant App in their browser or, if installed, they can opt to open the Omnilert App on their device. 
In SMS, the Instant App link will appear as a short link within the text message.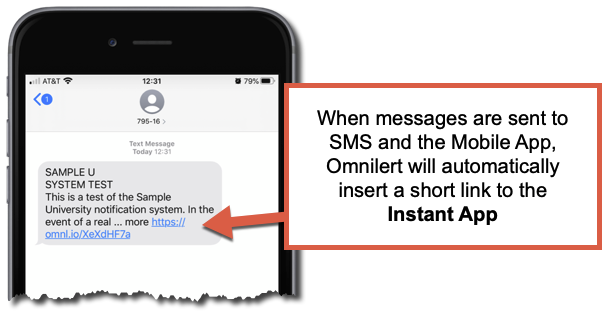 In Email, Omnilert will send a simple link appended after the message with the following:
"View this message to respond to any check-in requests, or access resources."
 In formatted emails, the words "View this message" will be a link to that subscriber's personal Instant App.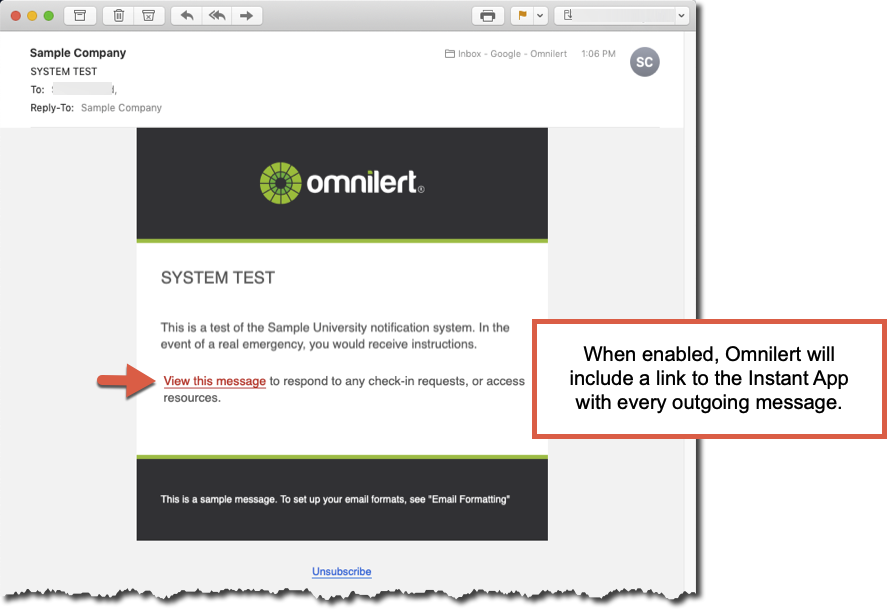 Note: Subscribers should not share their personal Instant App link. That link can be used to access their app features and even submit tips under their name. It should be kept private.
Tips & Notes:
The Instant App requires the use of the Omnilert App as part of the delivery endpoints. If you don't send the message using the Omnilert App endpoint, then no Instant App link will be sent in texts/emails. 
The Instant App link will be consistent for an individual subscriber and their URL is unique to them as a subscriber. Much like a password, the Instant App link should be kept private by each subscriber and not shared on social media, websites, etc.
The Instant App will not engage actual "push notifications", but the URL can be bookmarked and will display new messages as they arrive.
Unlike the full Omnilert App, there is no "settings" tab for this feature, since it's not an installed app, but rather a web page. 
Bookmark your Instant App URL to your phone's Home Screen for quick access. On iOS, press the "share" button and then "Add to Home Screen". For Android, see this article for Firefox instructions or this article for Chrome with instructions on adding a link to your home screen as a "PWA".
The Instant App will work in a desktop's normal, full web browser. However, some functions, such as dialing an emergency call number may not be available without access to a phone. 
If you do not wish to send out Instant App links and just want to use long SMS links, we recommend sending messages to the Omnilert App separately from SMS/Email. (This can be handy when composing new Scenario Actions. )