Subscribers will need an access code to receive alerts via their mobile app. The Subscriber Portal's "Omnilert App" section will display their access code.
The Omnilert subscriber app is available for iOS via the Apple App Store and for Android via the Google Play store. Links to the relevant stores are included within your portal profile, as well.
You'll see that this section includes a Personal Access Code (PAC) which is a 10-character string.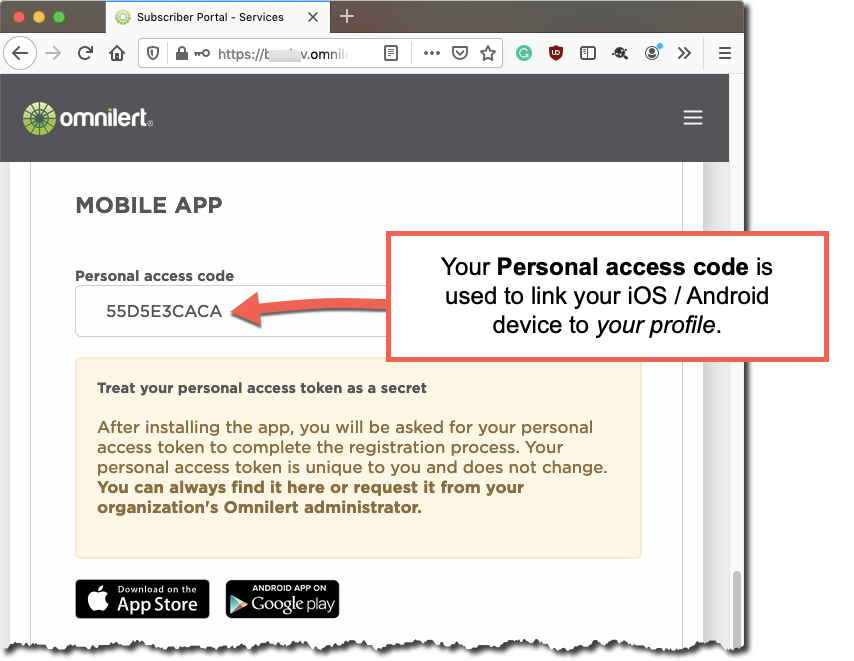 What is a "Personal Access Code" used for?
Your "Personal Access Code" is used to identify you to Omnilert. It will be unique to your subscriber login. This ensures that your device (iOS or Android) receives alerts sent to you by your institution.
Do not share your personal access code with others.
This special registration code will need to be entered when you open the app on your mobile device for the very first time. (After that, your phone will be registered and receive alerts via the Omnilert app.) You may re-use your PAC on multiple devices (e.g. iPhone, iPad, Android phone, etc.).
Note: Your institution may opt to email you this code or provide it to you directly, as well.