The Hotline endpoint provides an inbound phone number that can be called to hear your pre-recorded or text-to-speech message.
This endpoint is very similar to the Voice Calling endpoint, except instead of Omnilert calling out to subscribers, subscribers can call in to hear the message.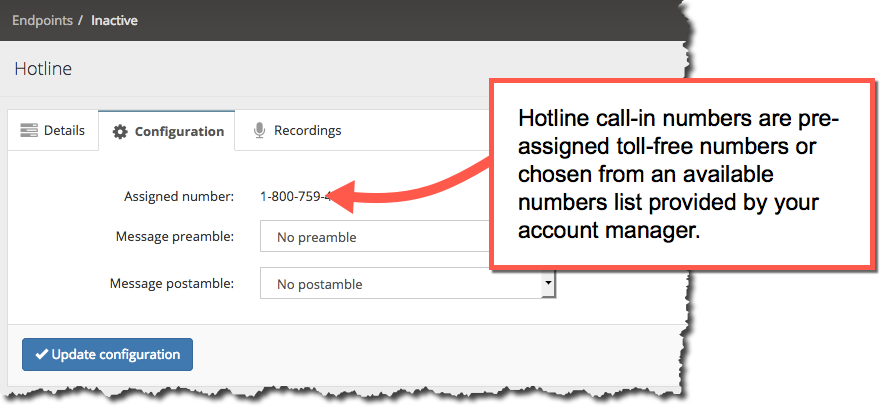 You can think of the Hotline as an answering service that simply plays an outgoing message. (Hotline does not record messages from callers.)
The Hotline configuration screen includes some basic settings:
Assigned number: This the phone number for your hotline. This number is typically a toll-free number assigned to your hotline.

Choosing a Hotline number depends on the numbers available.

Note: Check with your Omnilert Account Manager for assistance selecting a hotline number.



Message preamble: A recording to play before your message content. This can be used for a standard greeting, intro music, or whatever you'd like listeners to hear before your message plays.

 
---
FAQs:
"Can we record our own voice messages for the hotline?"
Yes. You can record your own voice messages, just like with other voice calling services. Click on the Recordings tab in the Hotline endpoint configuration settings to record/upload a voice file. (See "Recording Voice Messages" for more info on recording a voice message.)
"Who can hear our hotline messages?"
Anyone who calls your hotline number. Hotlines are available to any callers who know to dial your number. Simply publicize your hotline number within your community. The hotline is typically used for public-facing alerts, since anyone who knows your number can dial in and hear these messages.
"Can we see who called the hotline?"
No. However, you can see how many callers your message has received after sending to the hotline.
"Can we port a number to use for the Hotline?"
Possibly. Whether or not you're permitted to move a phone number to Omnilert (called "porting") is determined by the current "owner" of the number. Check with your local phone provider to see if you can take the number to another provider. If so, your account manager can work with you to port the number to Omnilert's phone services. 
Porting a number can be a long process, requiring several forms to be completed by you and your current phone provider. For this reason, we typically advise getting a new number for your hotline unless porting is required.
"Does hotline take messages from callers, like a voicemail box?"
No. Hotline simply plays out your message to the listener, but doesn't record or store voicemail.