Omnilert includes an optional channel to send automated voice calls to cell phones and landlines.
The configuration for the Voice endpoint channel includes the following settings:
Caller ID

:

The Caller ID is the 10-digit US number that will be seen as the caller for recipients of your voice calls.

You can set the number used for calls, but not the name that recipients may see. The text name displayed on the recipient's phone is determined by their phone's address book and/or their local carrier's phone database.

(This is why long distance callers often show as "Out of Area" on your typical Caller ID box. )

To ensure that your recipients don't ignore your calls, we recommend using a number that is registered to your organization's main switchboard. This will also allow those that happen to want to call you back to reach your organization.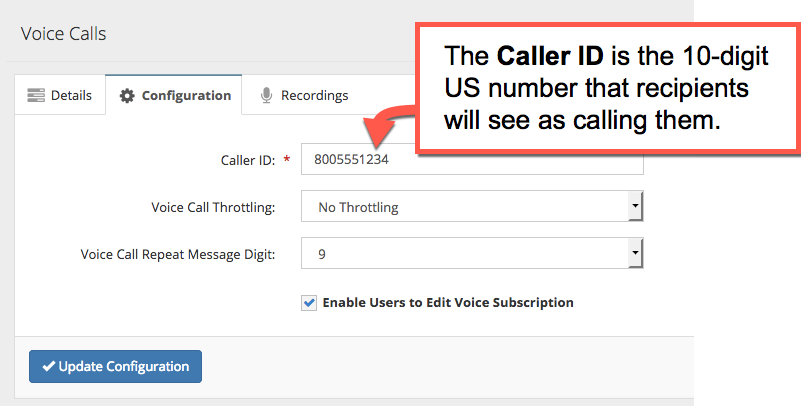 Allow/ disable voice subscription options in the Subscriber Portal
Not all organizations allow their subscribers to self-subscribe or manage voice calling subscriptions.
The "Enable users to edit voice subscription" option allows subscribers to view/edit their phone number for voice services. 
If checked, subscribers will see options to add/edit their voice calling number in their subscriber portal account. 
If not checked, the subscribers will not be able to view/edit their phone number for voice calling.
 
Voice call throttling:
As the name implies, the "Voice Call Throttling" setting can be used to throttle (or slow) delivery of voice calls. This can be helpful if you're calling into an area with limited calling capacity, such as a local PBX system or a small town with limited incoming call capacity.
Note: Throttling will slow the overall delivery speed for voice calls.
Check with your local phone company or telephony admins to determine what, if any, throttle is needed.
Message preamble / Message postamble
Used to place a recording before or after the content of your voice call.  This can be useful to add a delay before content plays or add a standard disclaimer after your call content has played.
See Message Preamble/Postamble
Voice call repeat message digit:
As the name implies, the "Voice call message repeat digit" is the phone pad digit that the recipient can press to repeat the message.
Typically, this is set to "9" and the call recipient is prompted with "Press 9 to repeat this message..." after your message plays.
Text-to-Speech
By default, Voice calls will convert the outgoing message using text-to-speech. The Omnilert text-to-speech engine can handle most common phrases, but there are some common SMS habits that will not translate well into voice messages, such as misspellings, abbreviations, proper nouns, shorthand and more. (See "Text-to-Speech Tips")
Need more control over voice content?
Use Omnilert's Voice Recording feature to pre-record the outgoing voice message. Using a recording will correct pronunciation as it bypasses text-to-speech entirely.