Admin roles are the starting permission sets for your administration accounts within the Omniert system. These roles dictate what features your admins can and cannot access.
If an admin's role does not permit access to a feature, it's removed from their menus and screens when they log into Omnilert.
This feature allows you to customize the system for each admin, keeping certain areas "off limits" to some and making the system simpler to use in the process.
Access the Admin Roles configuration in the Settings >> Admin Roles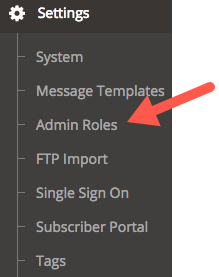 Omnilert includes several default roles:
Content admin: Can only send messages. These admins can send to groups they are assigned and the "All subscribers" group, which sends to all current subscribers. They cannot access settings or subscriber management tools.
Group admins: Can send to their assigned groups, as well as view the subscriber data in the subscriber list.
Support admins: Designed for "help desks", these admins can only access user management tools and can't send alerts.
Maintenance admins: Designed for IT support, these admins can access user info and settings, but can't send alerts.
Super admins: Can access all features and tools within the account. These are your highest-access accounts, with full control over your Omnilert service.
Admins can be edited individually to adjust their permissions and access. You may also create custom admin roles to suit your needs.
The Account Admin
There is also one admin who must be designated as the Account admin. This admin has access permissions and rights to all aspects of the account and cannot be removed or edited. Thus, this one special admin can't be locked out of the system. (We advise using this root account for configuration tasks only. A best practice is to set up a secondary admin for yourself for daily use, keeping the Account admin in reserve.)