Omnilert includes an option to upload and import subscriber data to operate as an "opt-out" system. To manually upload subscribers for import into Omnilert, use the Tools >> Subscriber Import option.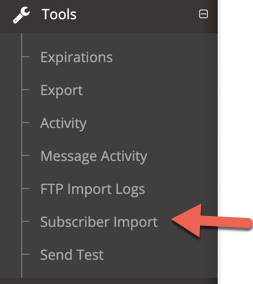 Subscriber data is imported in CSV (Comma Delimited Text) file format using plain-text/ASCII (ISO 8859-1) with UTF-8 character encoding. Detailed specifications on the layout of the CSV files are provided in the following articles:
Simple Upload: A simple bulk upload used to quickly add subscriber information to Omnilert
Command-Driven Upload: A more complex upload format, allowing individual add, update, and delete commands to manage subscriber data via CSV files.