Safe walk is a companion product for the Omnilert Mobile App.
Safe walk allows your subscribers confidence in their safety while walking to a destination. The app will allow them to set timers and report their location. Safe walk notifications will then be sent to designated Private Group(s) within your Omnilert system.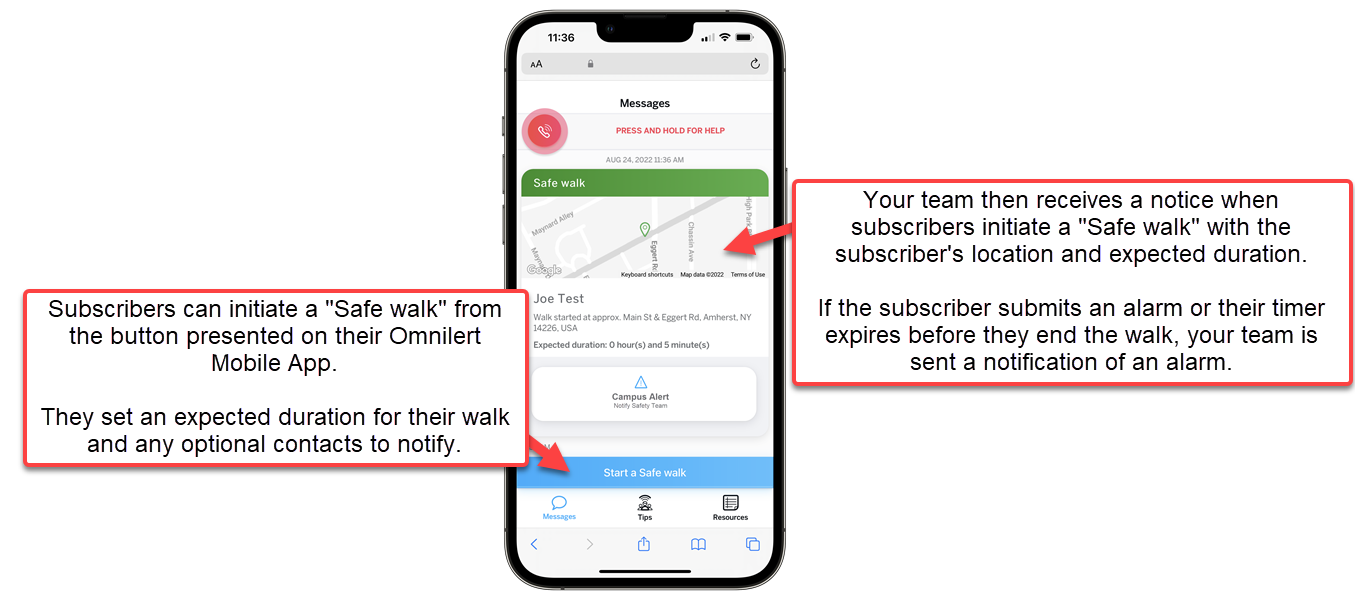 This information is used to notify their contacts and/or your team (Private Groups) if they fail to arrive and cancel the timer in the Omnilert Mobile App.
Configuring Safe walk
Safe walk is configured in the Priority Alerts > Safe walk section of the Omnilert admin portal. This feature uses the Priority Alert system in Omnilert to send alert cards when subscribers initiate their "safe walks".
Two primary settings must be in place for Safe walk to function:
Use the Details tab to set when/how events will trigger a priority alert.
Use the Groups tab to select which private groups will receive a notification when a Safe walk event occurs.
Details tab
The core settings for Safe walk are located on the Details tab.
Select the Enable safe walk box to enable this feature for your subscribers.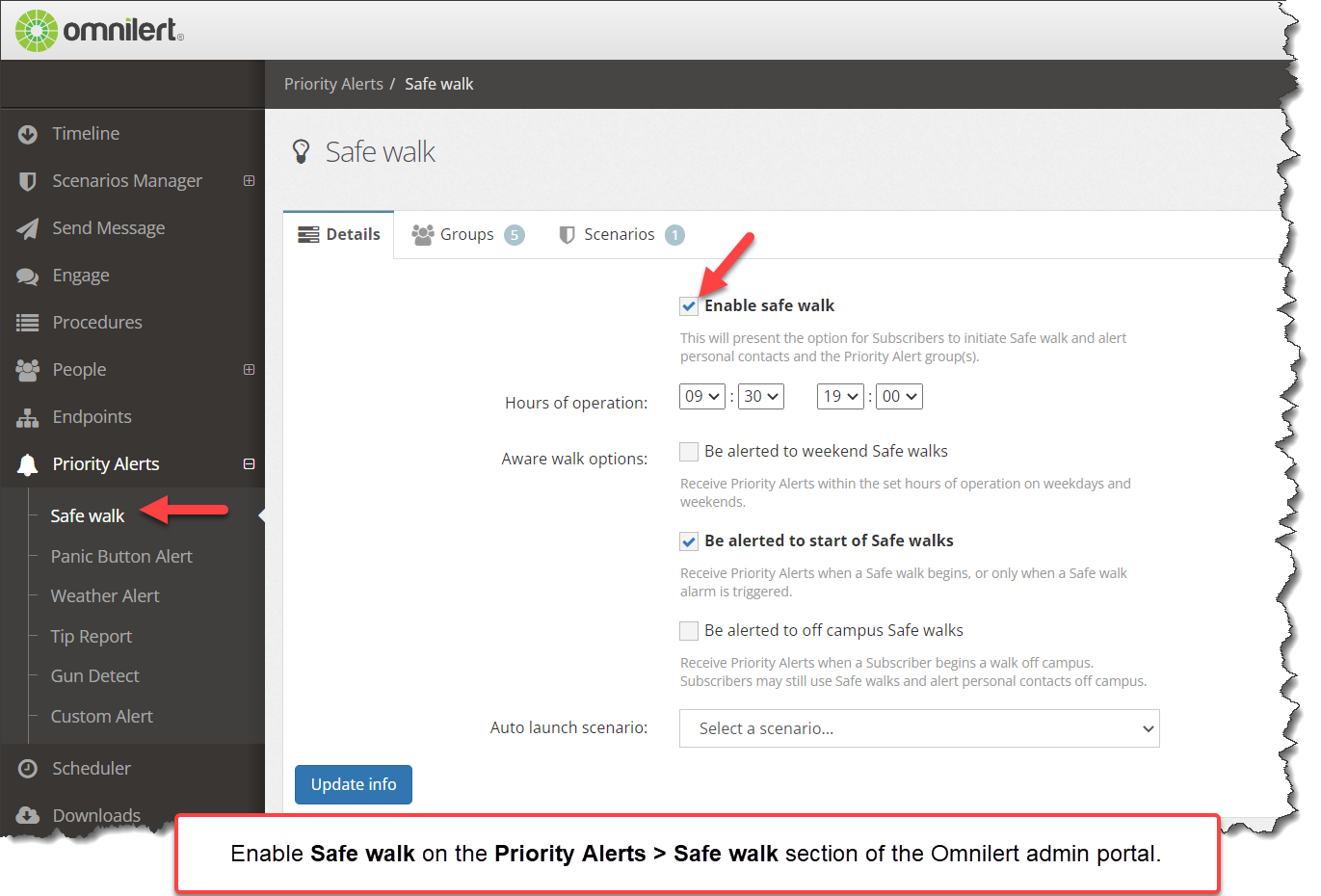 Hours of operation: Sets the hours in which your subscribers can begin a new safe walk from their Omnilert mobile app. The timeframe here is based on the local time zone setting for your Omnilert system.
Omnilert Monitoring walk options: These options determine when your designated private group(s) are sent alerts for Safe walks. They include the following options:

Be alerted to weekend Safe walks - If selected, Safe walks started on weekends will initiate an alert to your group(s).
Be alerted to start of Safe walks - If selected, your group(s) will receive alerts when a new Safe walk is started.
Be alerted to off-campus Safe walks - If selected, your group(s) will be notified when your subscribers choose an "off-campus" walk. (Otherwise, you are not notified of these walks.)
Auto-launch scenario: Automatically launch the selected Omnilert Scenario whenever a new Safe walk is started. (This is optional.)
Groups tab
Safe walk will notify your team via priority alert cards sent to the Omnilert Mobile App. These alerts are sent to private groups selected on the Groups tab.
Please note: At least one private group must be selected to receive Safe walk alerts.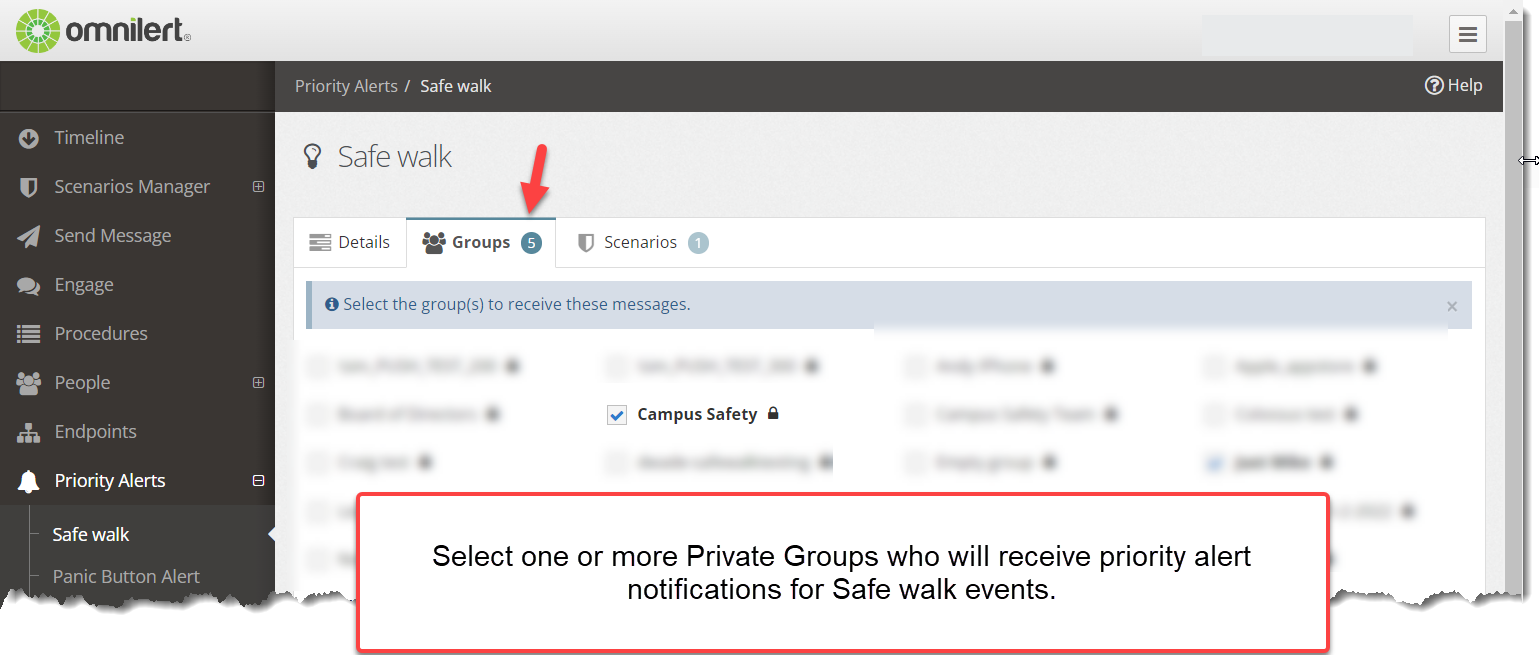 The group selected will be notified whenever a Safe walk event occurs. Typically, these groups include public safety teams, dispatchers, or other responsible parties who are ensuring the safety of your subscribers.
Scenarios tab (optional)
You can select one or more of your existing Omnilert Scenarios to present in the priority alert card for your groups to launch from the Omnilert app.
Any selected scenarios will appear as buttons within the priority alert card. Your private group recipients will then have the option to press a button and launch a scenario right from their mobile device.

Note: This is an optional feature and you are not required to link any scenarios to your Safe walk events.
Related support articles: