When a subscriber sends in a "tip" via the Omnilert app, the Omnilert network will send that tip out to any/all subscribers in the assigned groups for that tip category. (See "Priority Alerts: Tip Report" for configuration instructions.)
Example Tip Report
The content of a "tip report" can vary based on the submitter and how they choose to send their tip. If a submitter sends all possible content, the report will include the following:
The tip submitter's name
Their approximate location and map*
Their tip message content
A "show image(s)" option to display any images/videos sent by the submitter.
A typical report might look like the image below: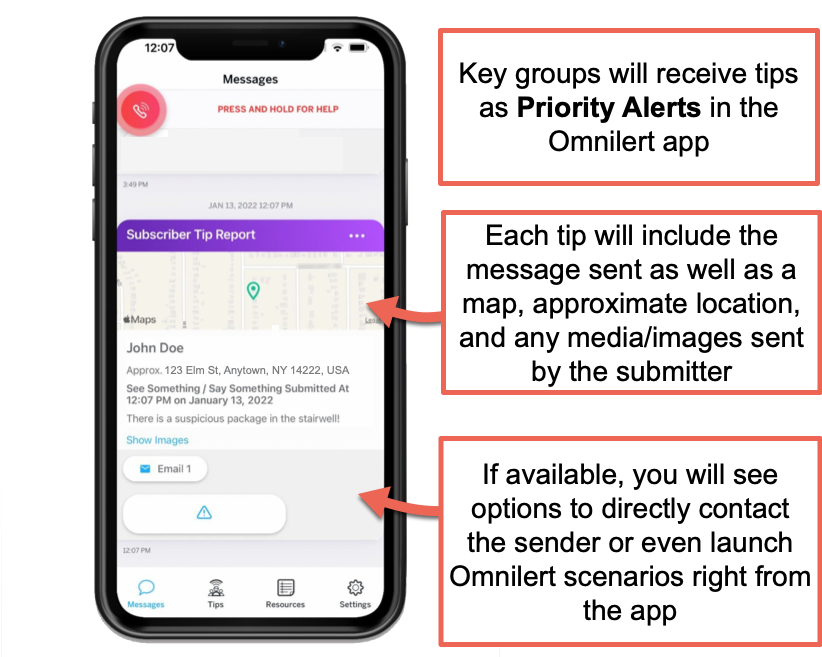 Naturally, if the tip reporter declines to include their name (e.g. it's an anonymous tip), their location, or doesn't attach images/videos, those items will be excluded.
If the tip is "anonymous", there will be no name or contact information.
Otherwise, Omnilert will display SMS, Email, and/or Voice buttons within the Priority Alert card. The contact options will include any active/valid devices from that person's Omnilert subscriber profile. These allow you to text, email, or call the subscriber directly from your mobile device. (Such calls/text/emails are direct from you and will not be logged in the Omnilert system.)
Any scenarios assigned to this Tip Category will display as buttons at the bottom of the priority alert card. Simply tap on a scenario to launch that scenario's actions.
Marking a tip as "Resolved"
You may opt to mark a tip/issue as "resolved" by clicking on the three dots at the top of the card and choosing "Resolve Issue" from the menu.
As expected, this will mark the issue as resolved by you, letting any other admins know that the item has been addressed.

Resolved issues will show with a green banner and a badge indicating that they've been "resolved".
Tip Reports in the Omnilert Timeline
Tip reports will appear in the Omnilert timeline with details about the tip and delivery if the tip report to its assigned group(s).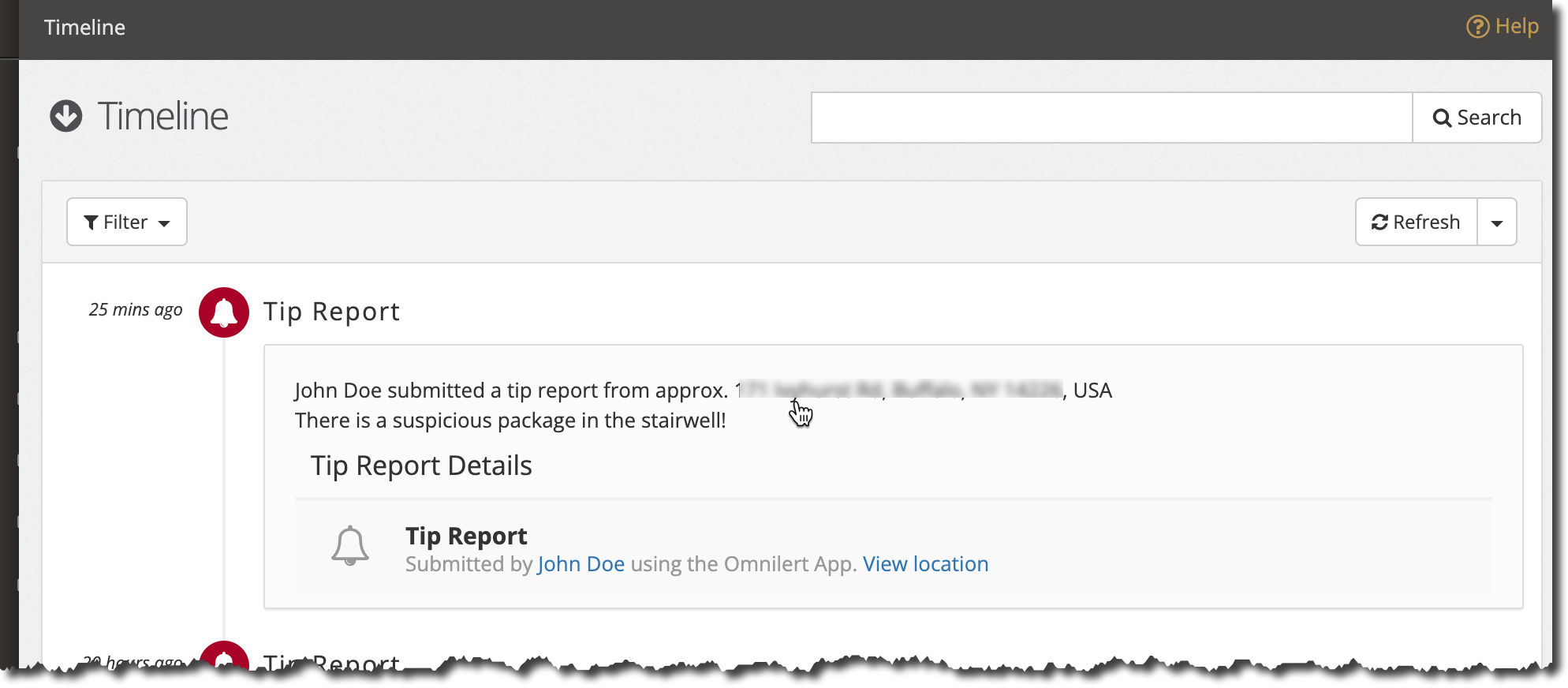 Simply click on the "Tip Report" item in the timeline to view the delivery details as you would for any Omnilert message.
* The location/map accuracy is determined entirely by the sender's mobile device and thus should accuracy can vary.