Omnilert now includes a more robust system for viewing/filtering lists of subscribers.
Each subscriber in Omnilert will have a "status". The status determines whether or not that subscriber can receive alerts from the service. A subscriber's account must be active, validated, and not expired to receive alerts.
Filtering the list
The People > Subscribers list now displays every subscriber, regardless of status, by default. this includes all of the inactive, unvalidated, and/or expired accounts.
Simply enter/select one or more status filters to view the desired list of subscribers in your account.
Active = The subscriber's account is "active" and can receive alerts. (This is the default for all new subscribers.)
Inactive = The subscriber's account has been de-activated and cannot receive alerts.
Expired = The subscriber's expiration date has passed and they will no longer receive alerts. They must log in and renew their account to receive messages in the future.
Unvalidated = The subscriber has not validated any SMS or Email devices in their account.
Opted-Out = The subscriber has actively "opted out" of the Omnilert service. (See "Opt-Out Mode")
Terminated = The subscriber has terminated their Omnilert service via the Subscriber Portal. (See System > Settings > Subscribers)
Searching the list
You can also narrow your list of subscribers by searching the list by username, first/last name, device type (SMS, Email, Voice), or tags using the search box to the right of the filter box.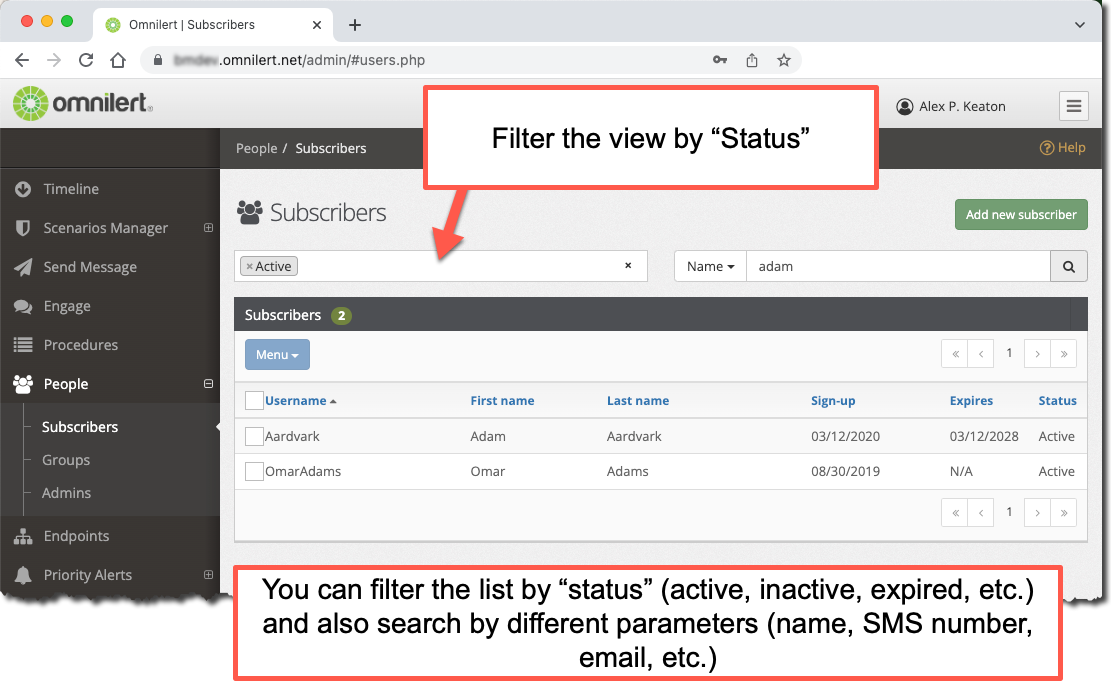 If a filter is chosen, then the search will seek results within that filtered list.