Omnilert offers an optional Tip Report feature that allows subscribers (and/or the public) to submit tips to your team via the Omnilert App. Tips can include text as well as images/videos from their mobile device. (See Tip Report for setup instructions.)
How to submit a tip via the Omnilert App
To submit a tip, subscribers simply need to visit the "Tips" page within the Omnilert App.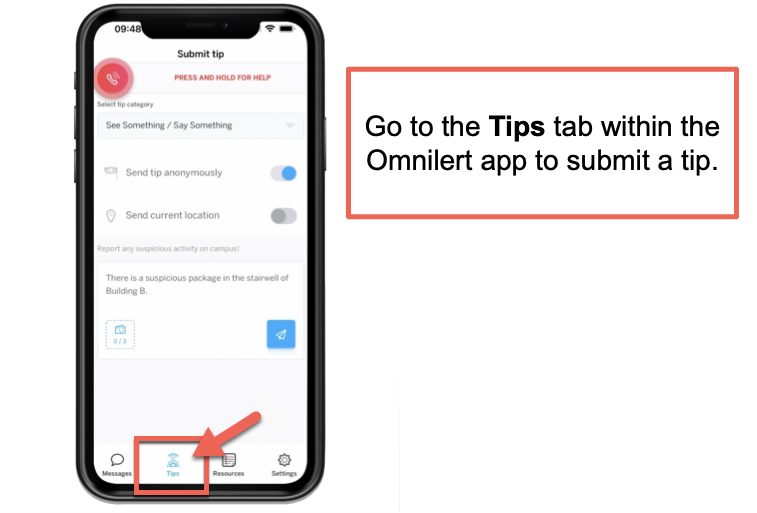 You may see an option to select from multiple categories if your organization has categories configured. (If you don't see any "category" options, that's OK. Your organization may only use one category.)
There also may be options presented to "Send tip anonymously". Select this option only if you wish your message to be completely anonymous.
Likewise, you may choose to "Send current location" to include your device's current location information with the tip. (This is also optional.)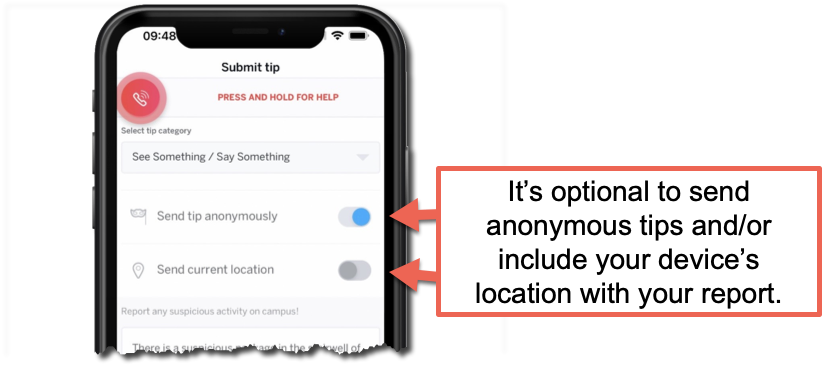 Including images/videos with your tip
The Omnilert app includes an option to include media (images and/or video) with your tip submission. The attached media will be sent to Omnilert and then relayed to your organization for their review.
To include up to 3 images/videos with your message, click the image button in the text area (shown below).

After submitting your tip, the app will display a brief notice to let you know that your tip has been submitted to your organization for their review.
Please note: If including your device location and/or images with your tip, the Omnilert app will need access to location services and/or the phone's camera accordingly. As such, your device may prompt you to allow the app to access these features.