Note: This article applies to both Desktop Alert (Legacy) and the new Omnilert Desktop Alert v2
---
After sending a message to desktop computers, Omnilert will track the progress/status of messages to the recipient computers in the Omnilert Timeline and Message Activity.
When viewing the timeline, you'll note that PCs can return different statuses. These status codes translate as follows:
299 - Alert Sent. (Not acknowledged / Display not started) - This could mean the PC is not online, client app is no longer installed, or just hasn't polled the server yet.
400 - Alert Start / Displaying. The message is displaying on the PC.
401 - User Acknowledged. The message was dismissed by a user. (Acknowledged)
402 - Alert Expired. The message displayed until expired. (Not acknowledged)
403 - Alert Canceled. The message was canceled in the admin console and thus display ended.
404 - Alert Replaced. The message was replaced by another message sent to that PC.
405 - Message Unread. The message was never picked up by this desktop and the message has since expired. (Never displayed the message.)
What can cause a desktop's status to remain as "unread" (and not receive desktop alerts)?
There are several causes that can prevent a computer from receiving desktop alerts:
The PC is offline, "asleep", or disconnected from the web.
The PC is not running the Omnilert Desktop Alert (ODA) client.
The PC has uninstalled the ODA client.
The PC is behind a network firewall or proxy that prevents the ODA client from reaching out to Omnilert.
The user profile logged into the PC has disabled or blocked ODA from connecting. (Personal firewall)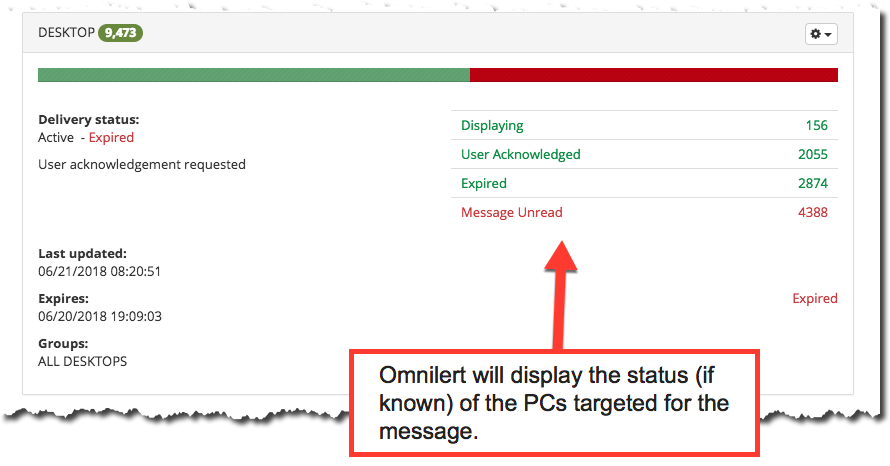 A large number of "Message Unread" responses in the logs can indicate a network issue blocking PCs from reaching desktop.omnilert.net to receive alerts.