In some cases, messages sent to the Omnilert App (or Instant App) may request your device's current location.
This information is used to help your organization's admins determine where responses are coming from on their map.
Location information is not mandatory. You may choose to deny location services and still use the Omnilert app to receive alerts and submit responses.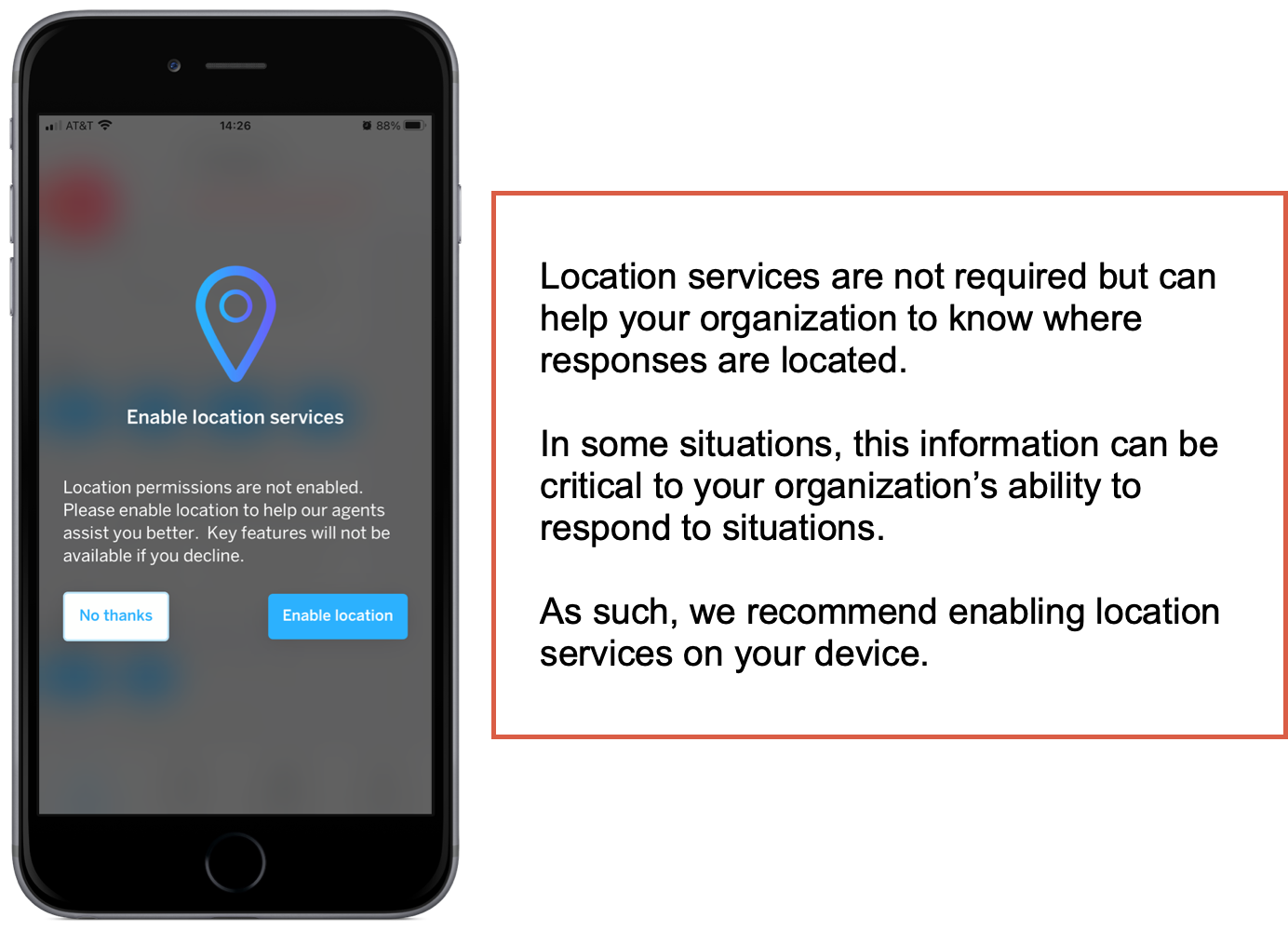 However, we recommend enabling location services on your device, as some advanced features and might not be available to you without providing location information with your responses.
"Location permission has been denied" warning
If you've previously denied Omnilert's app from accessing your location, you may see a popup stating "Location permission has been denied. Please enable manually and try again."

This indicates that you had opted to not share your location on this device.
If you wish to share your location, you'd need to adjust your device settings and try again. See below for more information on how to manually enable location services for your device.
Enable location for apps on iOS (Apple)
If using the Omnilert App on iOS, you can enable location services in the Settings app on your iOS device. Simply search for "Omnilert" in your settings and then tap on the Omnilert app.
In its settings, tap on the "Location" section and choose "While Using the App".
See also: https://support.apple.com/en-us/HT207092
Enable location for apps on Android
Enabling location settings can vary depending on your version of Android.
On most Android devices:
Swipe down from the home screen.
Open "Settings" from the quick menu. (Sprocket icon)
Tap on "Location" to open the location settings
Search for Omnilert in the Apps and tap on it.
Then tap on "Permissions" for the Omnilert app
Locate "Location Permissions" in the list. Tap on it and edit as needed.
See also: https://support.google.com/accounts/answer/3467281?hl=en
Enable location for your web browser
Most browsers include options to enable location services. This is an optional feature, of course, but provides Omnilert with useful location info from your device.
Typically, you'll see a popup like the one shown below when you first open an Omnilert Instant App link in your browser.

Click or tap Allow to allow Omnilert to access your location on that device.
If you've clicked Don't Allow or otherwise blocked location information in the past, you'll need to change your browser's settings to re-enable this functionality.
Here are links that may help: