NOTE: This article is specific to the Omnilert Notify SE version of Omnilert.
The Email endpoint is used to send plain-text emails to your Subscribers (recipients) from Omnilert. Subscribers must add their email address via the Subscriber Portal and validate/verify their address to receive email alerts.
To configure email services, go to Endpoints > Active and then click on EMAIL.
There will be two tabs of settings for the email endpoint: Details and Configuration
Details
The Details tab contains two settings:
Name: Used to re-name Email on the "Send Message" page, if so desired.
Default select: Enable this checkbox if you wish for the Email endpoint to be pre-selected when composing new alerts from Omnilert.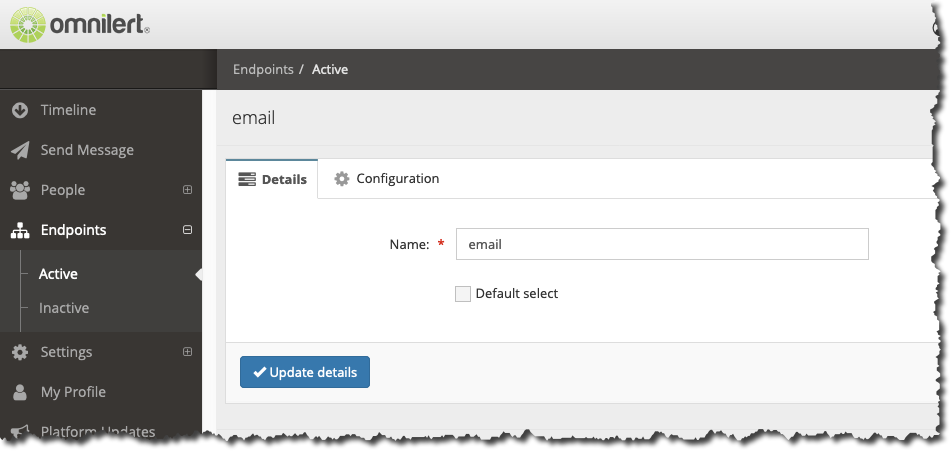 Configuration
The Configuration tab contains additional settings for the email endpoint.
From name: The text label on outgoing emails. Please note that Omnilert does not "spoof" email sender addresses. All emails will come from the sender "no-reply@omnilert.com" along with your custom text label.
Reply-To: (optional) If you wish to receive replies from recipients, they can be directed to you via the "Reply-To" option. Insert the email address you'd like your recipients to send replies to. (They will see this address if they click "Reply" in their email program.)
Enable users to edit email subscription: If enabled, subscribers can add/remove their own email address in the

Subscriber Portal.

(This is enabled by default. Do not un-check this box unless you wish to prevent subscribers from adding/changing their email address in Omnilert.)