Edit a Scenario to change its various parameters, such as:
Details: Set the name, description, category, and enable/disable "location services" for this scenario.
Permissions: Determines which admins can see and launch the scenario.
Procedures: Attach any PDF documents (Procedures) to this Scenario.
Triggers: Select any Triggers that will be allowed to automatically launch the Scenario.
Actions: Select which Actions will be performed when the Scenario is launched and in what order.
To edit a Scenario, click on the Scenario in the list of Active (or Inactive) scenarios.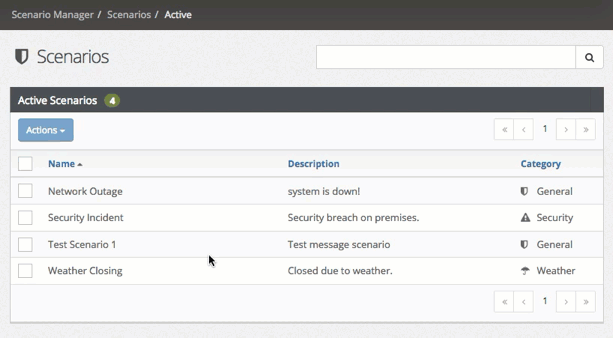 What is "Enable Location for This Scenario"?
When launched from the Scenarios App (iOS/Android), each Scenario has the option of utilizing the mobile device's location data. If this box is checked, the Scenario will be granted access to the phone's location for use inside of your Scenario's Actions.*
* Note: Location info is only available when the Scenario is launched via the Scenarios mobile app on a mobile device running iOS or Android that also has granted the app access to location data.