The first step in using Procedures is to create a PDF file and upload it into Omnilert. To upload a PDF document to Omnilert, visit the Procedures section of the main menu. Click Add new procedure to add a new PDF.

You will see a simple file upload screen. To upload a new PDF:
Enter a Name
(Optional) Enter a Description
Browse for your PDF file
Click Upload procedure to upload the file.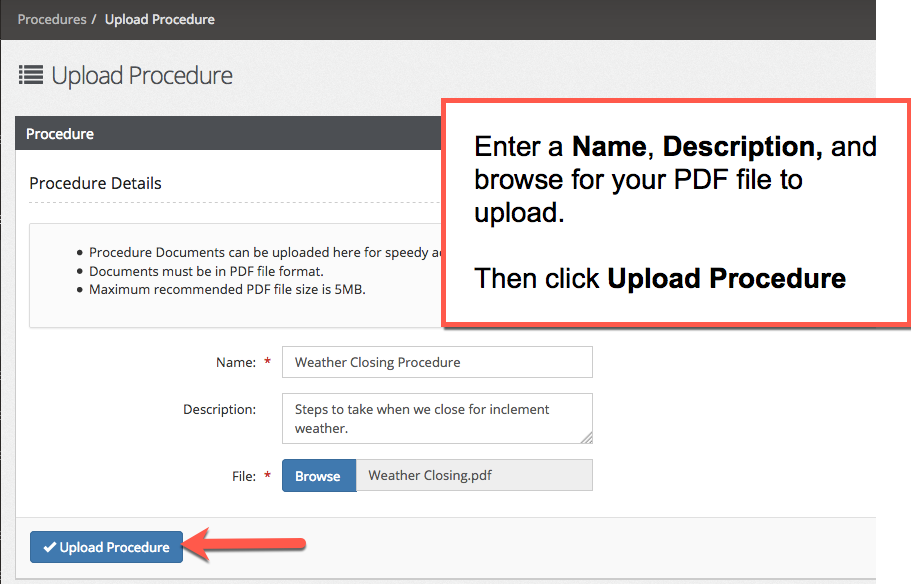 Once uploaded, the new procedure will be located in the procedures list as active, available procedures.
If you wish to upload the procedure as "Inactive" choose "Upload procedure as inactive". Inactive procedures will not be displayed in the Scenarios app.
Tips:
Procedures will allow you to upload PDF documents of up to 5MB in size.
If you plan to view procedures on mobile devices, make sure the PDF is formatted for mobile use. (e.g. The font sizes and layout works on mobile.)
Use names that will help your admins know which file is which. If there are a lot of documents, clearly named PDFs will help save time in a real crisis situation.