Supported Windows versions
Microsoft Windows 7 or later is required
Installation Instructions
There are two methods for installing the Omnilert Desktop Alert v2 client application; manual and automated installation.
Manual installation
To install Omnilert Desktop Alert v2 on a Windows computer, simply download and run the "Omnilert.msi" installer application. Follow the prompts provided by Windows to install the client app.
After installing the Omnilert Desktop Alert v2, the user will be prompted to enter their Personal Access Code (PAC).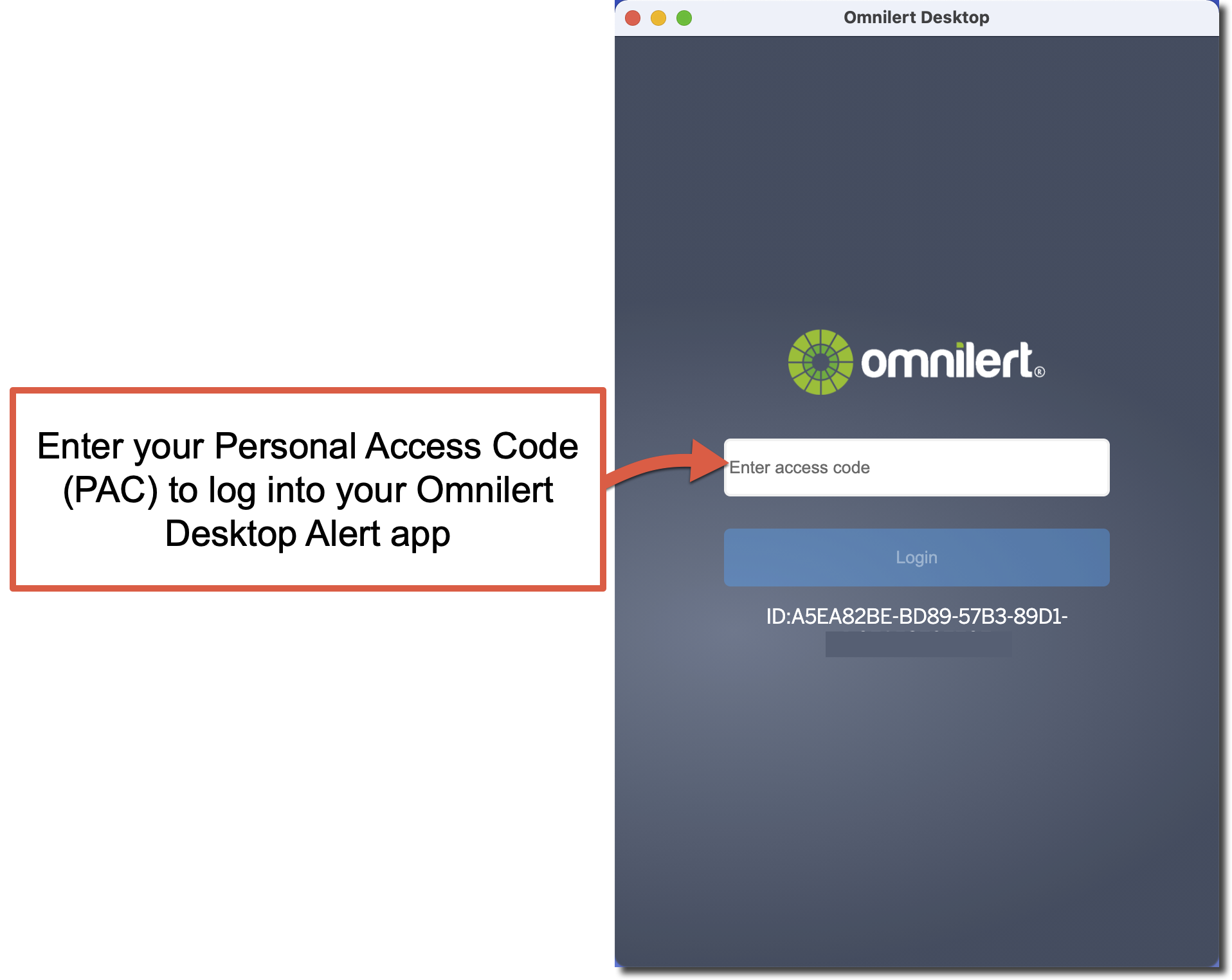 Once the PAC is entered, the subscriber can click "Login" to log into Omnilert and complete the process.
They will then have access to the features of the Omnilert App right on their desktop.
Remote/Automated Installation
Unattended installation can be as simple as running the following command on a PC:
msiexec.exe /i Omnilert.msi
Assuming that "Omnilert.msi" is in the current working directory, this command will install the Omnilert Desktop Alert client on the local machine.
The subscriber would then need to log in with their Personal Access Code (PAC) to log in.
Passing the Personal Access Code to the MSI installer
If managing the Omnilert Desktop Alert v2 client app on PCs via a software management system, such as SCCM, you can opt to assign PCs to subscribers during the install process.
This removes the need for someone to manually enter a valid Personal Access Code (PAC) on that computer.
In such a case, distribute the application with the following command-line arguments:
msiexec.exe /i Omnilert.msi PAC=thePACString
The PAC=thePACString section passes the code to the installer.
Each Omnilert subscriber will have a unique PAC that identifies them on the Omnilert platform. Just replace "thePACString" with the Personal Access Code (PAC) for the subscriber assigned to that PC.
Helpful Tip: You may need a list of subscribers' PACs to assign clients PCs. To get a full list of subscribers and their PACs, use the Tools > Export feature. Export the "Complete Subscribers Export", which will include every subscriber and their details, including their PAC. You can then use that list to insert PACs into the install scripts for your desktops.
Logging out
To clear out your PAC and unlink the PC from Omnilert, click on Omnilert's logo in the system tray and then select "Logout" on the menu. This will clear out the Personal Access Code from the current computer.