NOTE: This article is specific to the Omnilert Notify SE version of Omnilert.
The SMS endpoint is used to send text messages to your Subscribers. Omnilert sends standard text messages, compatible with all major US carriers. Text messages can have a maximum length of 160 total characters. (Anything beyond 160 characters will insert a short URL link into the message to view the full content in a browser.)
Subscribers must register their phones to receive SMS alerts via the Subscriber Portal.
To configure SMS, go to Endpoints > Active and then click on SMS.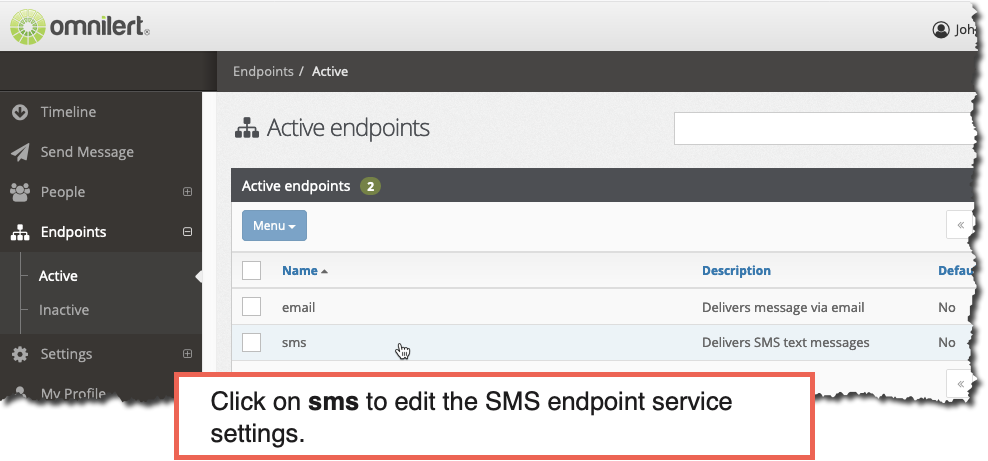 Details
The Details tab will display two settings:
Name: The display name for SMS on our send message screen. The name SMS might not be familiar to you. So, if you'd prefer to call SMS "Texts" or "Text messaging", then you can rename it accordingly. (This doesn't affect the actual messages sent, just the admin portal's display name.)
Default select: If enabled, Omnilert will pre-select SMS when composing new messages. (This saves a step when sending a message, so checking this box is recommended.)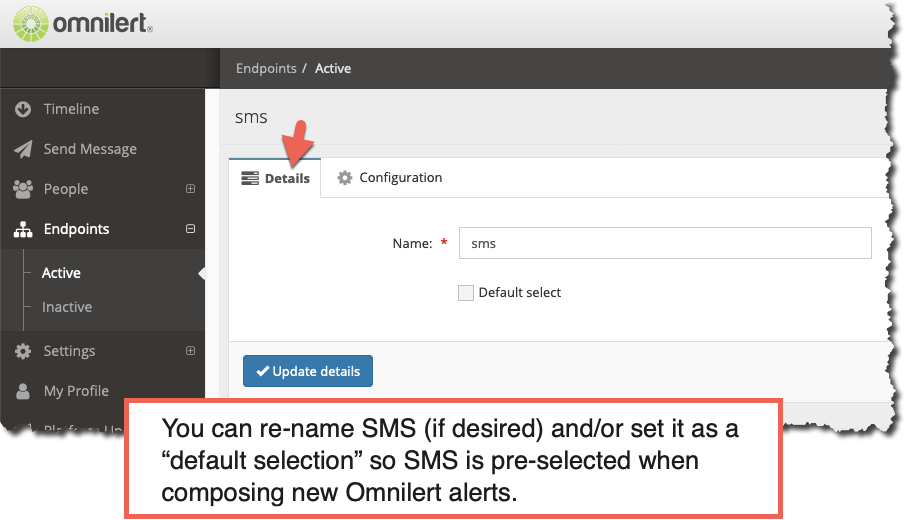 Configuration
The Configuration tab displays basic configuration options for the SMS services:
From Name:

This is the text label included with all outgoing SMS from your Omnilert service. Choose a short name that will clearly identify your texts.

Note: The "From Name" chosen will be used to calculate SMS characters remaining when composing messages.


FR:, SUBJ:, and MSG:

These are optional headers that can be added to your outgoing texts. Some organizations find these extra headers helpful. They are

not

required and use up valuable characters!
Enable users to edit SMS subscription: Used to show/hide the "SMS" section within the Subscriber Portal. (Checked by default.) If un-checked, Subscribers will not be able to add/edit SMS devices in their own accounts. (Do not disable this box unless you wish to freeze all subscriber SMS contact data, preventing changes/new additions.)