NOTE: This article is specific to the Omnilert Notify SE version of Omnilert.
The "People" menu item is used to manage your Omnilert Subscribers and their Groups. We will look at each in this article.

People > Subscribers
The Subscribers list, as the name implies, lists out the various folks who have subscribed to receive your alerts. [SEE VIDEO]
There are two lists available in this special version of Omnilert:
Active = Subscribers who have signed up, have no devices at all (yet), or added and completed the validation process for at least one device (SMS or Email)
Unvalidated = Subscribers who have signed up and added a device, but have not completed the activation process for any devices.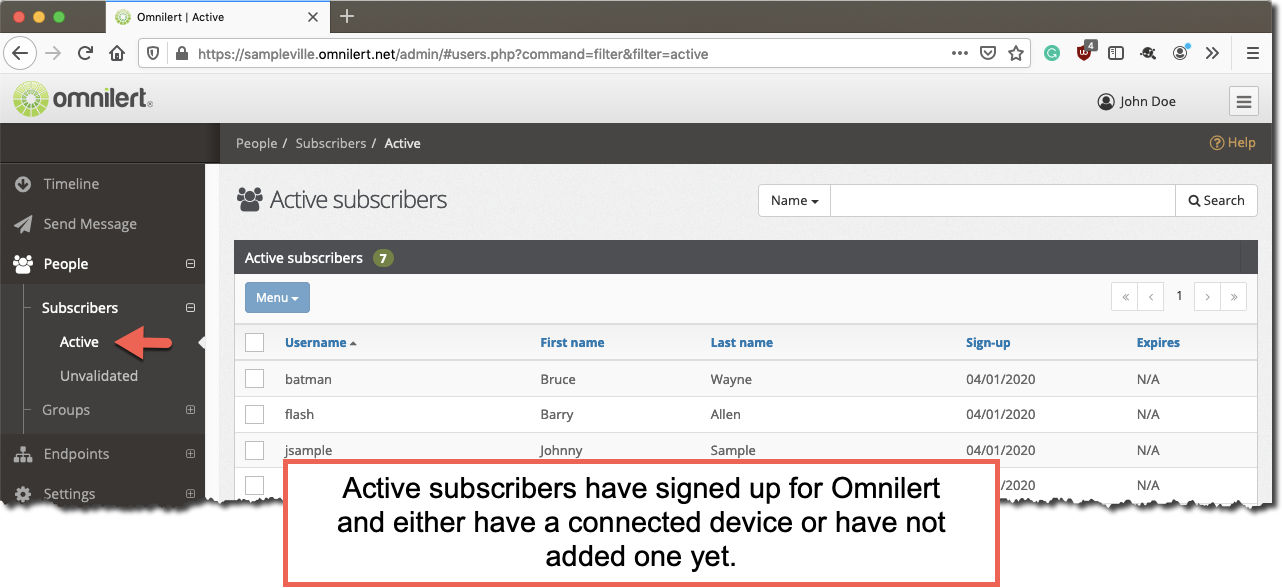 To view the details for a subscriber, simply click on their name on the list and Omnilert will display their information on-screen, including any phone number or email address they've registered with this service.
What is a "validated subscriber"?
When a subscriber adds a new SMS device (phone number), that subscriber must receive an enter a 4-digit "validation code" to verify that their device is their own and they consent to receive alerts. Likewise, when they add a new email address, Omnilert will send them a validation email with a link that they must click to confirm the email subscription.
Only validated subscribers with at least 1 active device (SMS or Email) can receive alerts.
Deleting a subscriber
To permanently delete one or more subscribers, select their name(s) onn the list and then choose Delete from the blue menu at the top of the list.

Note: Deleting a subscriber is permanent. There is no "undo". Once deleted, that subscriber would need to re-subscribe to receive any future alerts!
People > Groups
Groups are an optional feature to segment your subscribers for targeting messages. By default, Omnilert includes a "Send to All Subscribers" function, so you don't need a group for "everyone".
Use the People > Groups section to view your public groups and/or add new groups to target for messaging. Public groups are available for all subscribers to self-select.
People > Groups > Public
Use to view the current Public Groups within your account. (Please note that this special version of Omnilert does not provide "Private" groups.)
People > Groups > Add Group
Use this utility to add new groups to your account.
Group name: The name for this group displayed on sign-up forms, in the Subscriber Portal, and in the Send Message screen.
Group description: A brief description of the group and/or its purpose. Use to help guide subscribers to the right groups to join.
Keyword: Used to allow Mobile Opt-In (signup via text message by texting your keyword to 79516). Must be a single word, at least 5-characters long, and unique across all of Omnilert. (Group Keywords are first-come, first-serve, and should never be a common dictionary word!)
Default Group: Use to have this group pre-selected on the Subscriber Portal's sign up page.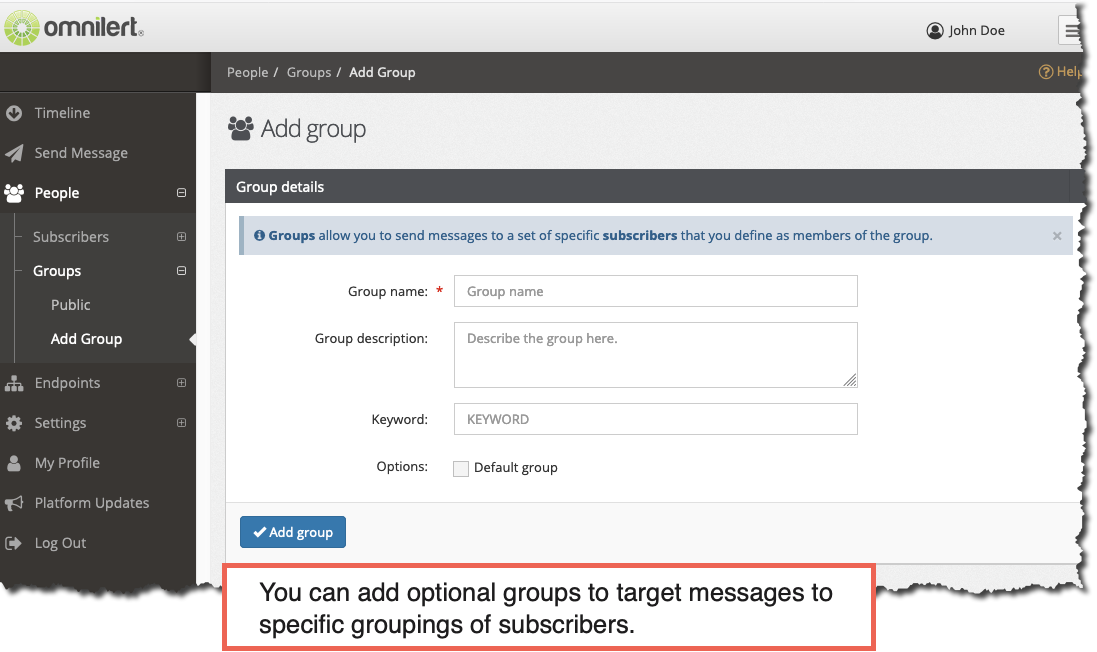 Tips and Notes
Please note that this special version of Omnilert does not provide "Private" groups. All groups will be "Public" groups that are available to any/all subscribers.
Do not create an "All users" group. The system already includes a "Send to All Subscribers" option, so creating such a group is redundant and will lead to confusion.