When sending a message, you may see a red box at the top of the screen with a message warning of:
Warning. You have at least one endpoint offline. Please double-check that necessary endpoints are active and online before clicking send.

As you may surmise, this warning is there to let you know that one (or more) of your Endpoints isn't reachable or isn't properly configured. When Omnilert checked, something didn't look right.
How to tell which endpoint has a problem
You can see which endpoint isn't working right by scrolling down to the "Select how" section. The offending endpoint will be disabled and show a red circle next to its status.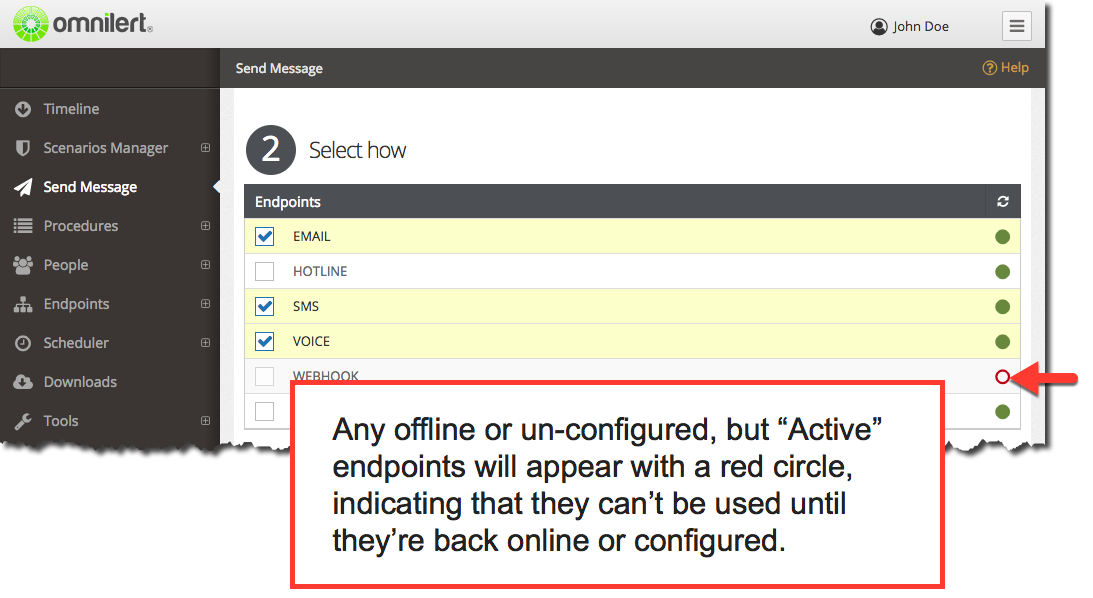 Why is an endpoint ever offline?
The exact reason why a specific endpoint isn't working can vary based on the endpoint. For example, you may need to enter credentials or a server address into the configuration for that endpoint.
It's possible that an external server is down or unreachable due to a local outage in your area or with that third-party vendor. (In some cases, such as a local power outage, some local endpoints might be expected to go offline or be unreachable.)
You might simply need to adjust your configurations on your Endpoints > Active list. In other cases, you might need to check with those external devices/services to see if they're down.
What to do?
Of course, you can still send a message to any of the endpoints with a green, solid circle. (Those are the ones that are online and configured!)
Here are some general steps to troubleshooting a broken endpoint.
First, hover your mouse over the red circle. Omnilert will display any additional error info available in a tooltip. (This may be helpful in diagnosing the underlying issue!)
Misconfigured endpoint:
To correct a problem with an endpoint's setup, go to the Endpoints > Active list and click on the offending endpoint. Then adjust its settings accordingly.
This is usually the fix for disconnected/broken Facebook connections as social media sites require special access permissions to connect. If those permissions change, you may need to re-authorize Omnilert to post to those services.
Endpoint is too slow to respond?
Some third-party endpoints, such as digital signage systems, may just need more time for their server to "wake up" and respond. You can try clicking the "refresh" icon

at the top of the list to re-scan your endpoints which may help.

Endpoint is no longer in service.
If the offending endpoint just isn't being used at all anymore, you can always make it "Inactive" to remove it from the service list.