Subscriber groups are subsets of your subscribers used to send targeted messages. These could be groups based on role ("Students" or "Faculty") or perhaps location ("Main Campus" or "Downtown Annex").
Naturally, the meaning and use of groups are up to you to determine. You can manage groups on the People > Groups section of the main menu.
There are two types of groups: public or private.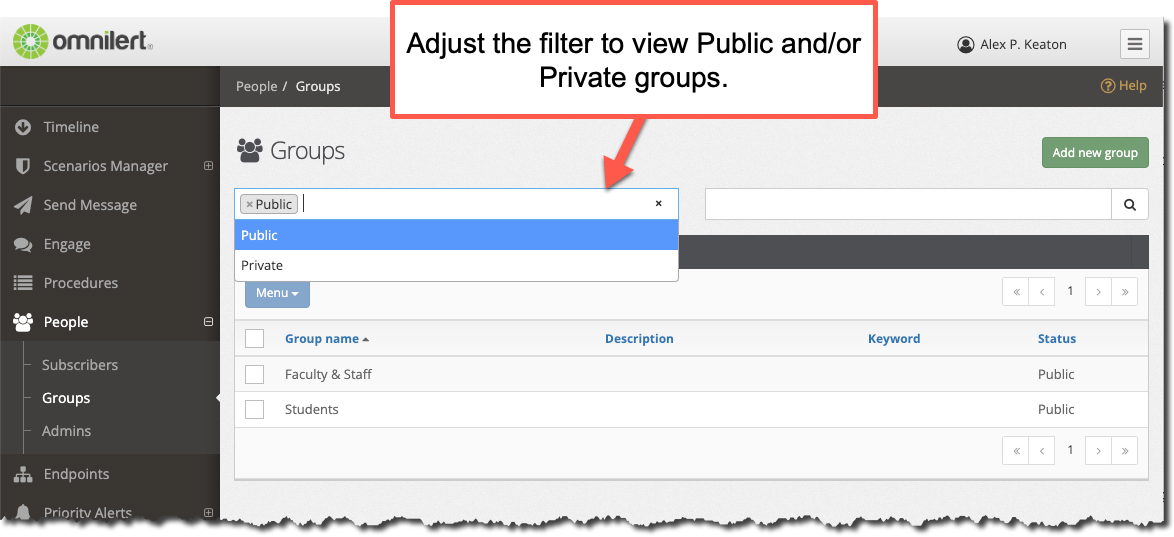 Use the filter at the top of the list to display public and/or private groups.
Public Groups
Public groups are groups that subscribers may choose to join when signing up or managing their own accounts via the subscriber portal.
These groups are typically groups like "Parking notices" or "Campus events". They're optional groups that subscribers may or may not choose to join.
Private Groups
Private groups are internal groups that subscribers do not see. Administrators add subscribers to private groups (manually, via the API, or via CSV file upload).
These groups are usually internal communication groups as they are hidden from subscribers. Private groups might be "Campus Police" or "IT Admins". These aren't groups that you'd allow everyone to freely join. These tend to be small, specialty groups and are typically managed manually by an admin.