Subscribers are the end-users who subscribe to receive your Omnilert messages via SMS (text messages), email, or voice calls.
To receive your alerts, a Subscriber must be active, validated, and not expired.
Menu options exist to show common lists of subscribers:
Active: Subscriber accounts that are flagged as "active", meaning they're enabled to receive your alerts on any devices that are set up in their account.
Inactive: These subscribers have accounts flagged as "inactive", meaning they are disabled, either manually or because they've never validated any devices. Inactive subscribers won't receive any alerts.
Expired: As the label implies, these accounts have expired. (You may optionally set the default for user expirations in the Settings section.) Expired subscribers won't receive alerts.
Unvalidated: These subscribers added devices, but never completed the validation/verification process. Unvalidated subscribers will not receive any alerts.
To view a list of users, simply click on appropriate menu item.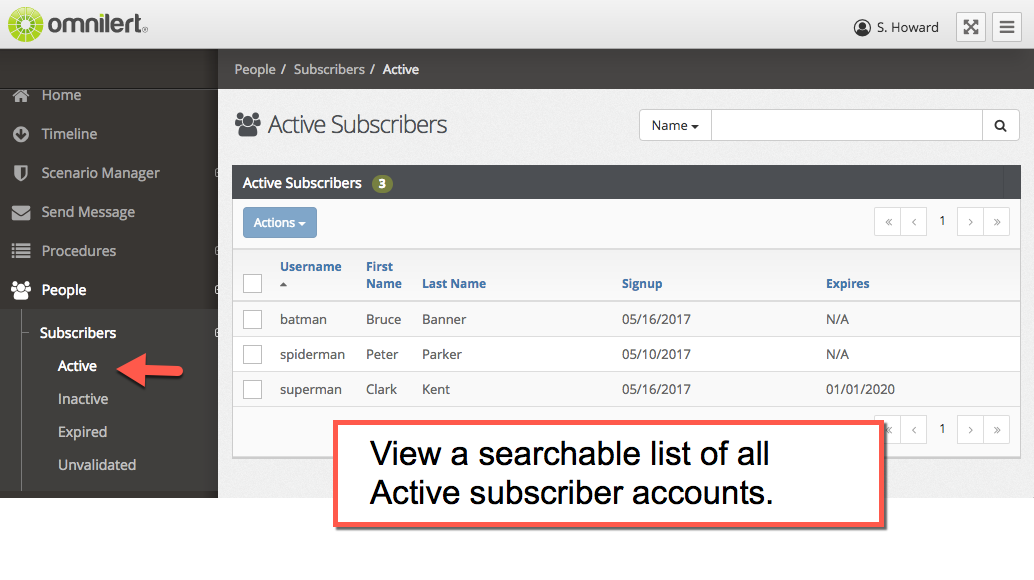 Advanced search functions at the top of the page are provided to allow you to quickly look for users by their name, number, email address, or groups.
You may view the details for a subscriber's account by clicking on their record in the list.